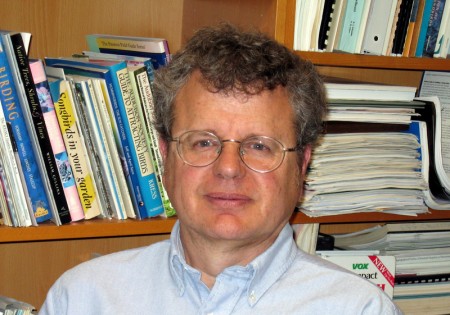 Dr. Greg Butcher, Director of Bird Conservation at the National Audubon Society, will address the relationship between bird movement and global warming during a special program Thursday evening at the APSU Sunquist Science Complex, Room E103A, at 7:30  p.m.
Dr. Butcher's program, "Bird Movement Reveals Global Warming Threat In Action," is sponsored by the Warioto Audubon Chapter and the APSU Center for Excellence in Field Biology. The event is free and refreshments will be served at the conclusion of the event.
Gregory S. Butcher, Ph.D., is Director of Bird Conservation for the National Audubon Society. In this role he oversees Audubon's State of the Birds analyses and other research related to bird conservation. He also works closely with Audubon's partner organizations including Bird Conservation Alliance, BirdLife International, the North American Bird Conservation Initiative, and Partners in Flight.
From 1992 to 1998, Greg served as Executive Director of the American Birding Association (ABA) where he spearheaded the addition of education and conservation initiatives to the organization's program agenda. Under his leadership, ABA's membership grew from 11,500 to 20,000 in five years.
Previously, Greg was the Midwest Coordinator for Partners In Flight where he served on the species assessment technical committee, which determined many of the scores that underlie Audubon's State of the Birds: WatchList methodology today. He also has served as editor of Birder's World magazine.
Greg is an elective member of the American Ornithologists' Union (AOU) and past president of the Association of Field Ornithologists. and has field experience in Costa Rica, where he completed the Tropical Ecology course of the Organization for Tropical Studies, organized a symposium and field workshop on monitoring bird populations at the First International Wildlife Management Congress, and organized a joint meeting of the American Birding Association, Association of Field Ornithologists, and Costa Rican Ornithologists' Association that attracted more than 400 participants.
Greg earned his B.A. in Zoology from Connecticut College and his Ph.D. in Zoology from the University of Washington. He has been an active field birder since the age of 11, birding in 47 of the 50 states, Canada, Mexico, Belize, Costa Rica, Panama, Peru, Chile, Europe, and South Africa. His number one birding goal is to see male birds of paradise displaying at a breeding lek.