The weekly Clarksville Parks and Recreation Department Recreation Report provides Clarksvillians with a glimpse at the activities and events that are available from the Parks and Recreation Department for them to enjoy together as a family. This weeks highlights include:
Concerts in the Park
Riverfest Regatta Race
Downtown Market
Summer is winding down for youth in the community, and school will soon begin.  But, Parks and Recreation believes all the fun does not have to end with the season.  That is why we are keeping two of the city pools open after the school year begins.  Bel-Aire and Swan Lake pools will remain open until August 9 allowing kids and families to enjoy another week of summer swimming.  Beachaven, Smith and New Providence will close August 2.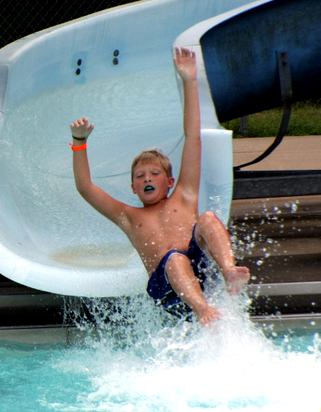 Concerts in the Park
We hope you will join Saturday, August 8 for another exciting Concert in the Park.  This month we have the 101st Airborne Division Army Band joining us for a night of live music on the Cumberland River.  Natalie's Dance Network will be providing the entertainment during intermission.
The concert begins at 6p.m. at McGregor Park, but you may want to get there a few minutes early to save your seat.   Bring your family and friends to enjoy this free concert.  It is one you will not want to miss.
Riverfest Regatta Race

Have you started building your cardboard boat for the 2009 Riverfest Regatta Race?  If not, do not worry.  You still have some time.  But, do not forget to fill out and turn in your boat entry soon.
The Regatta Race is one of the more popular events at Riverfest each year.  If you have not had the chance to see the races, you have missed out.  The Regatta Race is where teams work together to assemble a boat made of cardboard and other approved materials like paint, construction adhesive and duct tape.  On the Saturday morning of Riverfest, teams place their boats in the Cumberland River and compete to finish 100 yard course first.
Teams are separated into several different divisions: Adult Open, Business & Industry, Church/Civic Organization and Military. Prizes are awarded to first, second and third place teams in each division.  Boats are also judged on looks, so boat designs should be as creative as possible.
To enter for this event or to obtain more information on the Riverfest Regatta Race, visit www.clarksvilleriverfest.com.
Downtown Market
This coming weekend is Downtown Exploration week at the Downtown Market.  Rogate's Boutique will have some of their beautiful dresses and other women's attire on display at the market, as well as, information on the boutique.
The Woodturners will also be back with their unique handcrafted wooden items for sale.  The Downtown Market will be full of fresh locally grown fruits and vegetables again this week.  Squash, tomatoes, blackberries and peaches are just a few of the delicious produce at the market.
If you are looking for home décor, herbs, homemade bread, jewelry, baked goods or even baby blankets you need to be at the Downtown Market this weekend.
The Downtown Market takes place every Saturday from 8a.m. to 1p.m. at 1 Public Square.