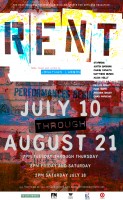 Only 5 more performances of RENT at the Roxy! Get your tickets at www.roxyregionaltheatre.org.
Saturday, August 15th at 6pm, come see selected scenes and songs by Jonathan Larson for only $5.
The 2009-2010 season is just around the corner! Get your season tickets and save $5 on every musical. Call 931-645-7699.


This September, enjoy the timeless wit and charm of Mark Twain during MARK TWAIN: 100 YEARS OF COMEDY, a special performance only showing September 11th & 12th.
The hilarious musical comedy, THE 25TH ANNUAL PUTNAM COUNTY SPELLING BEE takes to the Roxy Stage Friday, September 18th at 8pm. Visit our website at www.roxyregionaltheatre.org for more information about our upcoming season.
Opening nights for regular productions are Pay What You Can Night, where you name the ticket price. Call 931-645-7699 to find out about upcoming Pay What You Can Nights.