Governor Bredesen announces $17 million Transportation Enhancement Grants. Montgomery County among forty local community projects awarded grants to enhance transportation infrastructure.
TDOT's communications office issued a press release reporting Governor Bredesen and Transportation Department Commissioner Gerald Nicely announcing $17 million in transportation enhancement grants for projects in 39 Tennessee communities and one statewide grant. The grants will be used to assist local communities in developing a variety of projects designed to enhance the state's transportation infrastructure.
"The Enhancement Grant Program provides an opportunity for the state to work with local agencies to fund projects that enrich Tennessee communities in a variety of ways," said Bredesen. "Many will use these funds to build new sidewalks and bike trails that support healthier lifestyles, while others utilize the program to save historic structures for future generations. All of these are worthwhile projects that truly enhance the quality of life in local communities."
«Read the rest of this article»

The Warfield Family and Community Education Organization will coordinate a tour of the Cairo Rosenwald School in Gallatin, TN. The tour will leave from Smith Trahern Mansion at 9:15 A.M and return at 4:15 P.M. and South Guthrie Community Center, 5025 Guthrie Road at 10:00 A.M. and return on 3:30 P.M. on September 3. Please RVSP Delinia Storr at 485-2724 or Stacy Goodwin at 648-5732. The tour is sponsored in partnership of Warfield Family and Community Education Organization, University of Tennessee of Montgomery County Extension and Montgomery County Parks and Recreation Department.
«Read the rest of this article»

Nashville – Governor Phil Bredesen, Education Commissioner Timothy Webb and the Tennessee Department of Education launched the 2009-10 Middle and High School Reading Summit beginning today with a spotlight on promoting reading success.
"Reading is the key to a successful education," Governor Bredesen said. "While we have made reading a priority with early learning initiatives like Books from Birth, it's now time to apply that same level of focus to keep reading on the forefront for middle and high school students as we increase standards this year." «Read the rest of this article»
Related Images: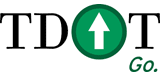 Nashville – Tennessee Department of Transportation crews will once again close a short section of Interstate 440 in Nashville this weekend as a major concrete rehabilitation project continues. This weekend's closure is one of several planned for the coming months. Contract crews will close I-440 Eastbound from the Interstate 40 junction on the west side of Nashville to Interstate 65 at 8:00 p.m. on Friday, August 28, 2009. I-440 will reopen no later than 5:00 a.m. Monday, August 31.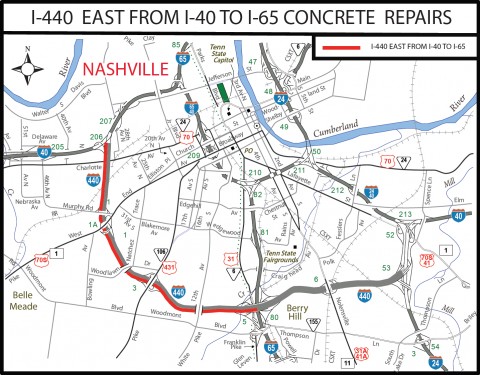 «Read the rest of this article»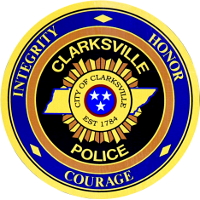 The Clarksville Police Department needs your assistance to identify the woman in the photo. She may have information related to the Hit and Run which occurred on Ft. Campbell Blvd. on August 18, 2009., around 10:47 p.m. Her photo is attached.


«Read the rest of this article»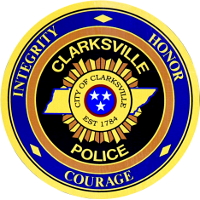 The Clarksville Police Department is looking for Dominick Shon Dre Hodges, a 21 year old black male. He is wanted in connection with the Homicide of George Lebrent Miller at the A&W Motel on July 22nd 2009.
There is an active FIRST DEGREE MURDER warrant on file for this subject. Anyone that has any information is asked to call the Clarksville Police Department / Crime Stoppers at 931- 645-8477. Detective Tim Finley is the lead investigator.
On Strawberry Alley, the newly renovated side street in downtown Clarksville, workers and artists keep slipping into a small, non-descript storefront.
Inside, they're busy ripping up old carpet, painting walls white and installing track lighting.
"We've got a lot of work to do," Gregg Schlanger, APSU professor of art, said.
That's because he hopes to open the space sometime this fall under the name "Austin Peay Downtown Gallery," giving the University an off-campus site to highlight the talents of former art students. «Read the rest of this article»
Fort Campbell – Fort Campbell Housing Services Office has partnered with Army Community Services and Clarksville Office of Housing Community Development and Pennyrile Area Development District to promote the options that are available to assist Soldiers, Families and civilian employees during this housing market crisis. A local mortgage office will also provide information.
The Housing Assistance Seminar is Sept. 16 from 9 until 11 a.m. at the Family Resource Center, 1501 William C. Lee Road. The free seminar is open to all active duty personnel, their Families and DOD civilian employees. Information covers topics ranging from home buying, home selling and foreclosure intervention.
Information will include the American Recovery and Reinvestment Act and the federal tax credit for first-time home buyers that is available.
To sign up, contact Fort Campbell Housing Services Office at (270) 798-3808 or Financial Readiness office at (270) 798-5518 or 798-7861.
Related Images:
Clarksville Community organizers will meet with Marsha Blackburn on August 28th 2009. The meeting will coincide with a healthcare reform rally from 2:00 p.m. till 4:00 p.m outside her "Clarksville District Office" (1850 Memorial Drive).
Clarksville Community Organizers is local grassroots group, and is part of the "Organizing for America" movement.
The group sent a letter to Congresswoman Blackburn expressing the importance of her representing the diverse local viewpoints on healthcare reform. Spokesperson Terry McMoore told Clarksville Online, "Clarksville Community Organizers looks forward to meeting with Congresswoman Blackburn, and educating her on this very important public health issue" He also wanted to encourage the public to attend the rally and show Congresswoman Blackburn that the community supports  the enactment of a healthcare reform plan.
Related Images:
One afternoon my husband Bill and I went to the Animal Shelter. One little puppy captured our hearts and we took her home with us.
Fawn, named because she is the color of a deer, has big brown eyes, huge paws, and the sculptured body of a boxer. The animal control officer, believed she would eventually weigh about 55 pounds. She now weighs 96 pounds (our fault, we are assured by her vet), and she is, unfortunately, somewhat obsessive-compulsive.
Fawn believes that order should reign in this world. When any object in our house is moved to a new location, Fawn is disturbed. When she was a puppy, she would stand and bark at the object until she finally decided that we weren't going to move it again. She now just avoids that area for several weeks at a time.
Fawn does not believe that life's activities are flexible. She has a routine and you are supposed to adhere to it. The minute I return from school in the afternoon, Fawn is to receive treats—numerous ones if she can convince me that starvation is imminent. She does not expect this service from Bill. «Read the rest of this article»