Annual Festival Slated for Sept. 18-19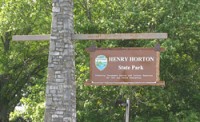 CHAPEL HILL, Tenn. – Henry Horton State Park will host its annual Step Back in Time festival September 18 – 19, featuring a pre-1840s encampment, horse-mounted shooters, arts and crafts, antique tractors and cars, music, food and much more.  Activities will begin at 9 a.m. each day and run until approximately 7:30 p.m.  The festival is free and open to the public.
"The Step Back in Time festival is a fun and educational event for the entire family and a great way to learn about Tennessee history," said Shane Petty, chief ranger for Tennessee State Parks.   "We are excited about the many talented artisans and musicians that will be on hand, along with some great re-enactors that will truly take us back to another time."
Live entertainment will include the Cumberland Pack Blue Grass Band, the Middle Tennessee Cloggers, a puppeteer, various storytellers and re-enactors.  Other featured attractions will be blacksmithing, roping, dobro and chair weaving, broom making, among many other unique activities.  On Friday, there will be a historical walk or ride beginning at 5:30 p.m. honoring individuals that lived on the Henry Horton property.
Visitors are encouraged not to miss Earl Adcock's Famous Putt Putt Ice Cream, the Horse Mounted Shooters and Bull Whipping exhibition and the trackless train – all three activities will be held both Friday and Saturday.
There will be games and programs throughout the two-day event such as hayrides, marbles, a dunk tank, a snake program on Friday and even a seed-spitting contest on Saturday.  Antique cars and tractors will be at the park on Saturday, starting with a parade at 9:30 a.m.
Henry Horton is a 1,140-acre state park with three hiking trails, featuring an abundance of wildlife such as wild turkey, deer and many kinds of wildflowers. Summer months bring hours of family enjoyment whether it's swimming in the Olympic-sized pool, fishing along the Duck River, playing volleyball or basketball or just having a picnic.  Henry Horton State Park also is well known for its championship 18-hole golf course, inn and cabins, campgrounds and trap and skeet range.
For more information and specific event times regarding Henry Horton's Step Back in Time festival, please visit the Web site at www.tnstateparks.com/HenryHorton or call the park office at 1-800-250-8612.
Events
The list of scheduled events include:
CRAFT SHOW: Friday & Saturday 9:00 A.M. – 7:30 P.M.
HISTORICAL RIDE: 5:30 P.M. Please call Brad for Reservations @ 931-364-7724
BLACKSMITH, Earl Tatum: Friday & Saturday
MARBLES: Friday & Saturday
ROPING: by Mark & Jacob – Friday & Saturday
SNAKE PROGRAM: Brad Halfacre – Friday
Earl Adcock and his famous putt, putt Ice Cream – Friday & Saturday
SEED SPITTING: 2:00 Saturday with Patrick Dwyer. $200.00 in prize money!
Pre 1840 ENCAMPMENT: Friday & Saturday with Dee Church & Friends
GRIST MILL: by Lee Clark
CUMBERLAND PACK BLUE GRASS BAND: Saturday @ 4:00 P.M.
HORSE MOUNTED SHOOTERS and BULL WHIPPING: Friday & Saturday
ANTIQUE CARS: Saturday
ANTIQUE TRACTOR PARADE: Saturday @ 9:30 A.M.
STORY TELLER: Friday & Saturday
BROOM MAKER, John Campbell
CLOGGING by MIDDLE TENNESSEE CLOGGERS: Saturday @ 11:30 A.M.
DOBRO and CHAIR WEAVING: Saturday with Charlotte Anderson
LONG HUNTER, Mr. Pinkleton
MOUNTAIN MAN, Gator
PUPPETER, David Null: Saturday
DUNK TANK: Deborah Ridenour, Rest. Manager
TRACKLESS TRAIN: Friday & Saturday
HAYRIDES