Construction started today of a new $25.5 million student residence hall complex at Austin Peay State University. Actually, it started hours before the groundbreaking ceremony was held.
"This is a different kind of groundbreaking," said Joe Mills, director of Housing and Residence Life at APSU. "Rather than having well-sifted ceremonial dirt, we're actually using turned dirt."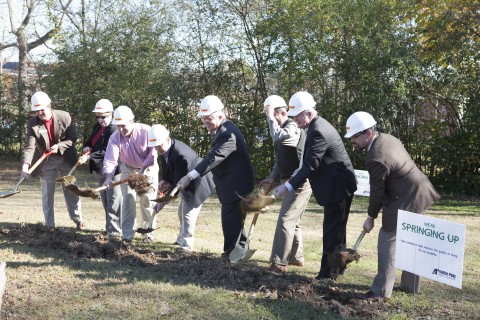 The 416-bed facility will replace three existing residence halls on the APSU main campus: Cross, Killebrew and Rawlins, which now house a total of 392 students.
The complex will feature two identical buildings joined by a common lobby and other common spaces at an "elbow," said Lane Lyle, architect with Lyle-Cook-Martin Architects in Clarksville responsible for designing the project.
The ground floor of the new residence hall will include public or common spaces, lounges, meeting and game rooms, a convenience store and coffee bar, a copy center and a laundry area.

"The unique quality of this residence hall is the aspect of building in common spaces with study lounges and kitchens in each 'pod' of the building," Mills said. "These shared spaces were designed to get students more connected with APSU, which will result in a more quality living experience and will be a positive contributor for student retention and success."
Students should be able to live in the new complex beginning Fall 2011.
Knoxville-based Rentenbach Construction Co., which recently finished two student housing projects at Eastern Tennessee State University and Tennessee Technological University, will build the new facility at APSU.