Beachaven Garden Club, Clarksville Garden Club, and Les Candides Garden Club, members of The Tennessee Federation of Garden Clubs, Inc., District II, invite the public to join us for the dedication of a Blue Star Memorial Marker on Monday, November 9, 2009. The Blue Star Memorial Marker (BSMM) honors all men and women who have served, are serving, or will serve in the Armed Forces of the United States.
The dedication ceremony will take place at 10:30 A.M. at the Montgomery County Courthouse, 1 Millennium Plaza, in Clarksville TN. The public is invited and encouraged to attend the dedication free of charge.
The project was made possible by donations from the members of Beachaven Garden Club, Sandra Watson, President; Clarksville Garden Club, Pat Arendt, President; and Les Candides Garden Club, Edith Hudson, President. We want to show our deep support and appreciation of those who have defended our freedom in the past, those who are at great risk in defending us today, and those who may do so in the future. «Read the rest of this article»
10th ANNUAL HALLOWEEN "CANDY BUY BACK" to support United Way. Clarksville Dental Center is holding its 10th Annual Candy Buy Back. The doctors at Clarksville Dental Center are offering $1.00 per lb of candy, they will MATCH it with another dollar to be donated to United Way of Clarksville. Candy purchased from the"trick or treaters" will be sent to soldiers stationed overseas. Children and parents can bring their candy to 1301 Peachers Mill Road now through Monday November 9th – M-Th 8-8, Fri 8-4 and Sat 8-3. Any questions please call 931-572-9152.
Austin Peay State University will celebrate National Distance Learning Week, Nov. 9-13, with several events planned.
The week will kick off with the fourth annual Innovative Professor Conference on Monday, Nov. 9 and Tuesday, Nov. 10. Online faculty will be able to take advantage of a variety of workshops and concurrent session presentations specifically for the distance-learning professional.
«Read the rest of this article»
Nashville – House Democratic Leader Gary Odom Thursday renewed his call for fair elections in Tennessee by calling on the secretary of state to "do his job" after a state court issued a ruling confirming that state law requires the implementation of paper ballot machines for the 2010 elections to comply with the Voter Confidence Act of 2008.
Odom cited the following ruling from Chancellor Russell Perkins in Davidson County Chancery Court:
"The court finds that the Tennessee Voter Confidence Act does not require the voting system to be implemented by the state of Tennessee to meet 2005 standards," wrote Perkins.
"The court determines that the state is obligated to take prompt, effective steps to meet the statutory deadline using compliant voting systems." «Read the rest of this article»
To commemorate Veterans Day, Austin Peay State University Woodward Library will host a historically accurate theatrical performance of Gen. George Patton at 2 p.m., Nov. 10 in the Clement Auditorium, located on the University campus. The event is free and open to the public.
The portrayal, titled "General Patton's Christmas Prayer Miracle," will be performed by Larry Gates, a Brentwood securities investment adviser and 1952 APSU graduate. «Read the rest of this article»
Approximately three weeks ago, Charter Communications removed WKAG TV from its cable lineup in Clarksville, Tennessee, after 17 years.
WKAG was the only station on the lineup that has consistently covered events in the Clarksville market since the mid-90's, and included the coverage in newscasts, sports coverage, weather, public affairs and the all important information and updates that flow daily from Fort Campbell.
Many reasons have been given for this drop, with the primary one being a signal strength issue from our transmitter once Charter decided to drop the fiber optic feed that they had provided to get the signal for over ten years.
WKAG does not dispute the signal issue question, which we began to alleviate the moment we first heard about channel loss possibility. «Read the rest of this article»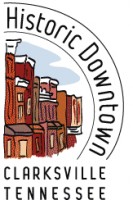 The owners of the shops and restaurants in Historic Downtown Clarksville invite you to enjoy a day of leisurely shopping and dining during our Third Annual Holiday Open House event.  On Saturday, November 7th the shops will open their doors and share gift, decorating and fashion ideas for the holidays.  Some of the participating businesses are:
ARTifacts, An Art & Antique Emporium
Hodgepodge, where you gather your home
Rogate's Boutique
Ingredients, for the gourmet in you
All of these businesses are locally owned and offer shoppers the most unique inventories and fare available. «Read the rest of this article»


Sophomore forward Anthony Campbell scored 15 first-half points while sophomore center John Fraley scored 15 second-half points to lead Austin Peay State University to a 95-75 exhibition basketball win against Oakland City, Thursday night, in Dave Aaron Arena.
Fraley finished the night with a double-double, 21 points and 10 rebounds while Campbell ended with 20 points, three assists and two steals in the Governors exhibition opener. Senior guard Wesley Channels, the preseason All-Ohio Valley Conference selection added 15 while sophomore forward Marcel Williams had a double-double with 13 points and 13 rebounds to go with three blocks.
«Read the rest of this article»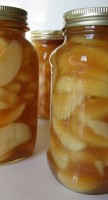 Apple season is pretty much over in Clarksville, but you can still find a few bushels of apples here and there for sale.  If you find them for a great price, you can do lots of things to preserve them.  Some of the ways I preserve apples are:
Drying
Wrapping and storing fresh
Apple Butter
Canning with a pie filling
I'll show you how to dry apples, make apple butter and even make decorations with dried apples in future articles and how to store fresh apples all winter in another. Today I want to share this delicious pie filling recipe. You'll love having it in your pantry this winter.
If you have never canned anything at home, you will want to find and purchase a Ball Bluebook Guide to Preserving before you attempt these instructions. Home canning is fun and helps save money, but it must be done correctly to keep your family safe from botulism and to keep yourself from getting burned or injured in the process. «Read the rest of this article»