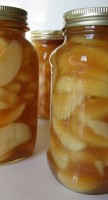 Apple season is pretty much over in Clarksville, but you can still find a few bushels of apples here and there for sale.  If you find them for a great price, you can do lots of things to preserve them.  Some of the ways I preserve apples are:
Drying
Wrapping and storing fresh
Apple Butter
Canning with a pie filling
I'll show you how to dry apples, make apple butter and even make decorations with dried apples in future articles and how to store fresh apples all winter in another. Today I want to share this delicious pie filling recipe. You'll love having it in your pantry this winter.
If you have never canned anything at home, you will want to find and purchase a Ball Bluebook Guide to Preserving before you attempt these instructions. Home canning is fun and helps save money, but it must be done correctly to keep your family safe from botulism and to keep yourself from getting burned or injured in the process.
Ingredients
4 1/2 cups white sugar
1 cup cornstarch or Clear-Jel
2 teaspoons ground cinnamon
1/4 teaspoon ground nutmeg
2 teaspoons salt
10 cups water
3 tablespoons lemon juice
2 drops yellow food coloring if desired
6 pounds apples, tart cooking apples such as Jonagold, Pink Lady, Rome or Empire. Don't use an apple like Red Delicious which is strictly for eating raw.
Directions
In a large sauce pan, mix sugar, cornstarch, cinnamon and nutmeg
Add salt and water and mix well.
Bring to a boil and cook until thick and bubbly.
Remove from heat and add lemon juice and food coloring if using.
Taste the filling with a piece of apple to see if you want to add more cinnamon or nutmeg.
Sterilize canning jars, lids and rings by boiling them in a large pot of water.
Peel, core, and slice apples.
Add a layer of apples and a layer of hot filling til the jar is filled to within 1/2 inch of the rim of the jar. Leave that 1/2″ head-space.
Wipe the rim of the jar with a clean cloth. Add a hot lid and a hot ring.
Process in a hot water bath for 20 minutes.
Put lids on and process in a water bath canner for 20 minutes.
Use the apples just as you would commercially prepared apple pie filling.  One quart jar of home canned pie filling will fill two regular pie crusts or one deep dish pie crust
About Sylvia Britton
Sylvia Britton is a Clarksville native and owner of the Christian HomeKeeper™ Network website and ministry. She and her husband Mark are the parents of 5 children and grandparents to two little girls.  She enjoys reading, mentoring women, writing articles for several magazines, gardening and Tennessee history.

Web Site: http://www.christianhomekeeper.org
Email:
Sections
Arts and Leisure
Topics
Apple Pie, apples, Ball Bluebook Guide to Preserving, Canning, Cooking