One by one, five students unveiled the exact student headcount at Austin Peay State University. The number revealed was 10,188 students.
"Behind every number is a student whose dreams are being realized here at Austin Peay," President Tim Hall said during a public announcement and celebration this morning at the main campus. Faculty, staff, alumni and students attended the event, which culminated in the distribution of free commemorative T-shirts to the campus community.
Now that Fall II 2009 figures from the Austin Peay Center @ Fort Campbell are complete, APSU's enrollment is 10,188 for the Fall 2009 semester, pending approval from the Tennessee Higher Education Commission when it meets for its quarterly meeting Nov. 19.
«Read the rest of this article»
Call the Tennessee Tobacco QuitLine for Great American Smokeout

Nashville ? The Department of Health urges Tennessee smokers to take part in this year's Great American Smokeout on November 19, 2009. The goal of this annual health observance is to encourage smokers toquit for one day in the hope they may quit for good. In Tennessee,tobacco users can call the Tennessee Tobacco QuitLine free of charge at1-800-QUIT-NOW or 1-800-784-8669 to set a plan for how to quit.
"Tennesseans who want to start the process of quitting smoking have a powerful tool available to help them in the QuitLine," said Health Commissioner Susan R. Cooper, MSN, RN. "Research shows that smokers who have a cessation plan and a support system have a much better chance of success with their quit attempt."
«Read the rest of this article»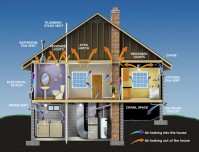 As the cold weather approaches there are some things you can do to prepare your home for winter.  Clarksville temperatures have been known to get into the single digits in the winter so don't get caught in the cold without getting your home all tucked in.
In preparing your home for winter there are several steps to be followed in order to ensure a warm, clean environment for your family during the coldest months. Not everyone reading this will have to contend with wood stoves and woodpiles, drafty windows and doors and an overabundance of "stuff" to deal with. But it is all included here in case you need it.
«Read the rest of this article»