Kim with Mrs. Miller's fourth grade class
Last week, I had a wonderful opportunity to learn.
I was invited to East Montgomery Elementary School in Clarksville to read to Mrs. Miller's 4th grade class. We had a terrific time together and they had lots and lots of questions. A few days later, I received some very thoughtful and sweet thank you letters from the class.
In the days since, I've thought about that class and about my children when they were that age. I remember the thank you notes, the cupcakes, the practices and rehearsals, the tears, the nerves and the giggles. I remember reading with my children and my parents reading to me. And I remember it all with gratitude. «Read the rest of this article»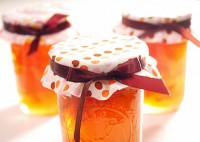 One of the things I made for Christmas gifts last year, and plan to make this year, is marmalade . There is no comparing the homemade product with store bought.  This recipe makes about 9 cups of marmalade.
You will need two or three varieties of oranges and about half that many lemons to make a full flavored, yet subtle, marmalade. For example; I used 4 oranges and 2 lemons in the batch I made this week.  I use water but you can use orange juice for a more full-flavored marmalade. «Read the rest of this article»