It's inside game limited to just 14 points, Austin Peay State University called on its guards to carry the load and they responded with aplomb in a 65-55 Ohio Valley Conference victory against Eastern Illinois, Saturday night, at the Dunn Center.
Junior guard Brooke Faulkner led all scorers with a career-high 20 points and sophomore guard Whitney Hanley chipped in 15 points as they combined to make six three-point field goals.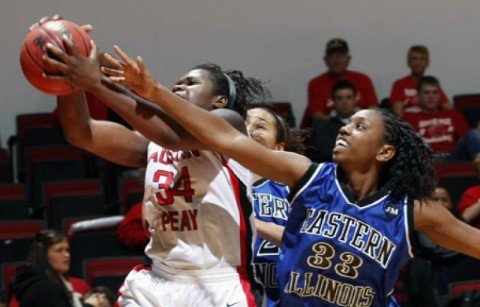 Their combined performance was necessary as the Lady Govs scored just 14 points in the paint and their inside duo – sophomore Jasmine Rayner and senior Nicole Jamen – finished with 19 combined points. Jamen grabbed a career-high 17 rebounds to help offset a 12-pont outing – her season's third double-double.
Austin Peay (3-5, 2-0 OVC) never trailed in the contest but did not enjoy a comfortable margin until it led by 12 points, 65-53, with 1:40 remaining. The Lady Govs led by as many as seven points in the opening frame,  but it was a one possession game for most of the final three minutes before settling on a 30-27 halftime score.
Eastern Illinois (4-4, 1-1 OVC) opened the second half by cutting the lead to one point, 32-31, with 17:13 left, but could not get past Austin Peay. The Lady Govs used a 9-1 burst over the next 2:17 to build a nine-point lead. That lead would reach 11 points, 61-50, with 4:10 remaining and Austin Peay would not be threatened the game's remainder.
Austin Peay shot 41 percent (25-of-61) from the field, including 35 percent (7-of-20) from three-point range. Jamen, Hanley and Faulkner combined to attempt 34 of the team's 61 field goals, making 19 of the 25 field goals.
Senior Maggie Kloak led Eastern Illinois in both scoring (10) and rebounding (nine). The Panthers were held to 33.9 percent (20-of-59) field goal shooting and made just16.7 percent (2-of-12) from three-point range.
Austin Peay, which is 2-0 in OVC play for the first time since the 2003-04 season, returns to non-conference play with a 7 p.m., Tuesday, Dec. 8 contest at Arkansas-Little Rock.