The Clarksville Parks and Recreation Department's weekly recreation report provides Clarksvillians with a glimpse at the activities and events that are available from the Parks and Recreation Department for them to enjoy together as a family. This weeks highlights include:
Community Center Activities
Santa's Workshop at Christmas on the Cumberland
Two evenings at Santa's Workshop coming to McGregor Park
Downtown for the Holidays & The 50th Annual Clarksville Jaycee's Christmas Parade
Community Centers are teeming with activity

All three community centers carried several new programs this fall and many are returning in just a few short weeks. Look for updates and new schedules for Archery, Zumba, Toddlers In Action, and Ballroom Dancing just to name a few.
In the meantime stop in the Crow Center and learn to Hula on Tuesdays and Thursdays or practice the Japanese martial art, Judo on Tuesdays, Thursdays, and Saturdays. Or get in a rigorous workout in Burt-Cobb Community Center's R&B Jazz Step exercise program on Saturday afternoon.
Crow Community Center staff would like to remind patrons the center will be closed December 7-13 for annual maintenance but it will reopen on December 14 just in time to register for the Indoor Soccer program.
The Youth Indoor Soccer Program begins January 9 at the Crow Community Center. The eight-week instructional program is open to youth ages 4 to 12 and registration will begin December 14, 2009.
Registration forms are available at all three Community Centers and online at www.cityofclarksville.com. The cost is $20 per child plus a $5 Community Center ID.  Classes for youth ages 4-6 will be held at 9:15 a.m., 7-9-year-olds at 10:30 a.m. and 10-12-year-olds at 11:45 a.m.
Burt-Cobb, Crow and Kleeman Community Centers will each be hosting Christmas celebrations this holiday season.  Stop by for each center's holiday open house with refreshments and visits with Santa.
Burt-Cobb will be hosting their Christmas party December 14 from 5-7 pm.  Crow Community Center will be hosting their Christmas party December 17 from 6-8 pm.  Kleeman Community Center will also host their party December 17 from 5-7 pm.
Play a game of basketball and make some new friends at the Winter Gym Program at Byrns-Darden Elementary School on Monday, Tuesday and Wednesday evenings from 6 to 9 p.m.
Anyone is welcome to participate in the Winter Gym Program, but youth age 13 and younger must be accompanied by an adult.  The cost is free.
Byrns Darden's gymnasium will be open to Winter Gym participants through March 31, 2010.  The gym will be closed on holidays and when school is closed.
Enjoy Two Evenings in Santa's Workshop at Christmas on the Cumberland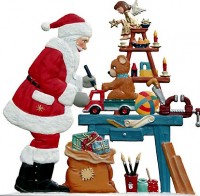 New to Christmas on the Cumberland this year are two nights of family fun in Santa's Workshop.  On December 18 children and parents are invited to come and decorate their own Christmas cookies supplied by Kroger.  Children and parents are invited to return the following night on December 19 to create wooden Christmas ornaments with materials provided by Lowes Home Improvement.
Both evenings in Santa's workshop are free of charge and take place from 6-8 pm, or while supplies last, in the As the River Flows Museum at the McGregor Park RiverWalk.
Frigid weather can't hold back the 50th Annual Christmas Parade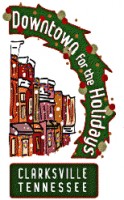 The City of Clarksville and the Clarksville Jaycees held their 50th annual Christmas Parade Saturday evening in conjunction with the Downtown for the Holidays festivities. The coming of the Christmas Parade is a sure fire sign in Clarksville that Christmas it just around the corner!
Other festive activities included a Christmas Cookie bake-off at Ingredients on Strawberry Alley, Caroling and free Hot Chocolate at the Montgomery County Courthouse, and the official lighting of the Montgomery County Christmas Tree by County Mayor Carolyn Bowers.
Clarksville Online attended several of the evenings events and offers this collection of photographs for your enjoyment.