Topic: Ballroom Dancing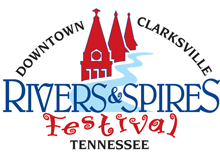 Clarksville, TN – What's beautiful about Ballet Folklorico Viva Panama? Everything. First, you see the many colors in the gorgeous costumes of the dancers. The beauty of the women and men who are dancing delights your eyes. The music is filled with happiness and joy. Just sit back and watch.
At least, that's what was on tap at Rivers and Spires 2016 on Saturday. Vicky Schuler, mother of Mildred Verona, the leader of Ballet Folklorico Viva Panama, spent two months in Panama this past year gathering materials and beaded hair adornments for the elaborate costumes of the female dancers.
«Read the rest of this article»

The Clarksville Parks and Recreation Department's weekly recreation report provides Clarksvillians with a glimpse at the activities and events that are available from the Parks and Recreation Department for them to enjoy together as a family. This weeks highlights include:
Ballroom Dancing
R&B Step Class
Afterschool Programs
Kleeman Community Center closed for Maintance
Adult Softball Leagues
Youth Baseball
Youth Softball
«Read the rest of this article»

The Clarksville Parks and Recreation Department's weekly recreation report provides Clarksvillians with a glimpse at the activities and events that are available from the Parks and Recreation Department for them to enjoy together as a family. This weeks highlights include:
Sports Leagues
Adult Softball
Burt-Cobb Community Center reopens
Ballroom Dancing
After School Archery Program
«Read the rest of this article»

The Clarksville Parks and Recreation Department's weekly recreation report provides Clarksvillians with a glimpse at the activities and events that are available from the Parks and Recreation Department for them to enjoy together as a family. This weeks highlights include:
Toddlers in Action
Zumba
Burt-Cobb Community Center closed
R&B Step Class
Ballroom Dancing
After School Archery Program
«Read the rest of this article»

The Clarksville Parks and Recreation Department's weekly recreation report provides Clarksvillians with a glimpse at the activities and events that are available from the Parks and Recreation Department for them to enjoy together as a family. This weeks highlights include:
Archery
Toddlers in Action
Zumba
R&B/Jazz Step Program
Ballroom Dancing
Walking Programs
Holiday Closures
«Read the rest of this article»

The Clarksville Parks and Recreation Department's weekly recreation report provides Clarksvillians with a glimpse at the activities and events that are available from the Parks and Recreation Department for them to enjoy together as a family. This weeks highlights include:
Community Center Activities
Santa's Workshop at Christmas on the Cumberland
Two evenings at Santa's Workshop coming to McGregor Park
Downtown for the Holidays & The 50th Annual Clarksville Jaycee's Christmas Parade
«Read the rest of this article»


The weekly Clarksville Parks and Recreation Department Recreation Report provides Clarksvillians with a glimpse at the activities and events that are available from the Parks and Recreation Department for them to enjoy together as a family. This weeks highlights include:
Weight rooms
R&B/Jazz Step Class
Ballroom Dancing
Hula Lessons
Judo
Zumba
Winter Gym
Clarksville Greenway
Fright on Franklin Street
«Read the rest of this article»


The weekly Clarksville Parks and Recreation Department Recreation Report provides Clarksvillians with a glimpse at the activities and events that are available from the Parks and Recreation Department for them to enjoy together as a family. This weeks highlights include:
The Clarksville Greenway
Heritage Park Bark Park opening soon
Downtown Market
Just for Tots
Shape it up
Theatre in the Park
«Read the rest of this article»


The weekly Clarksville Parks and Recreation Department Recreation Report provides Clarksvillians with a glimpse at the activities and events that are available from the Parks and Recreation Department for them to enjoy together as a family. This weeks highlights include:
The Clarksville Greenway
Theatre in the Park
Community Centers
Downtown Market
«Read the rest of this article»

The weekly Clarksville Parks and Recreation Department Recreation Report provides Clarksvillians with a glimpse at the activities and events that are available from the Parks and Recreation Department for them to enjoy together as a family. This weeks highlights include:
Riverfest 2009
Clarksville Greenways
Downtown Market
Clarksville Community Centers
«Read the rest of this article»