Written by Artur Weber
Task Force White Eagle Public Affairs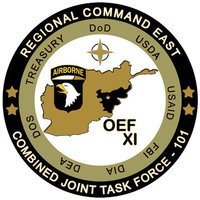 Ghazni Province, Afghanistan – Polish and American doctors from Task Force White Eagle saved the life of an 8-year-old Afghan girl who was accidentally wounded in a firefight between Taliban and Afghan security guards in a southern district November 2nd.
The injured girl was brought by her brother to Forward Operating Base Warrior in the southern part of Ghazni Province just before 6:00pm. According to the girl's brother, she was accidentally injured when insurgents attacked a civilian convoy.
Polish medics from FOB Warrior delivered initial medical care, but it became necessary to transport the wounded girl to a field hospital for surgery. TF White Eagle transported the girl via helicopter to FOB Ghazni. 
"As a result of wounds to her abdomen, she required surgery. Further, one bullet lodged in her [pelvis]," said Maj. (Dr.) Robert Brzozowski, head of the Field Surgical Team.
Polish surgeons, assisted by an American anesthesiologist, conducted the two-hour operation.
"The doctors managed to safely remove the bullet from girl's body," said Brzozowski.
The operation was a major success and shortly after, she was transported to a provincial hospital in Ghazni City.