Clarksville, TN – A man, Frank Huber Sumner with a history of over 50 arrests, several involving acts of violence, robbed a 79 year old woman, was arrested and booked into jail. The next day he was released on his own recognizance.
12 hours after his release, he committed another robbery. This time, involving an 84 year old woman who he seriously injured during the course of the robbery.
On November 1st, 2010, around 6:00pm, a 79 year old woman pulled into her driveway on Hillwood Drive and opened her door. After she opened the door, the man snatched her purse from her arms, knocking her to the ground, and then ran away with the purse.  She was taken to the hospital emergency room and treated for a laceration to the back of her head, a cut to one of her fingers, and a large bruise on her left forearm.  Through the course of an investigation, it was determined that Sumner had committed the crime and was taken into custody on November 3rd, 1:53am and booked into Montgomery County Jail for Robbery, Bond: $25,000.

He was released on his own recognizance on November 4th, around 10:00am. On November 4th, 2010 around 9:10pm, an 84 year old woman had got off of work from a Madison Street business and was walking through the parking lot to her car. As she was getting into her car, a vehicle pulled up behind her car, a man later identified as Frank Sumner, got out of his vehicle and approached her. Sumner grabbed and pulled the 84 year old's purse which caused the woman to be knocked to the ground. After Sumner took the purse, he fled from the scene in a vehicle.

The vehicle which belonged to Sumner was found but, he was not inside. Sumner was located a short time later at 802 Central Avenue. The investigation revealed that Sumner had committed the crime and the purse was recovered from a dumpster on Whitfield Court. The 84 year old woman was taken to the hospital with a broken shoulder and a laceration above her eye.
Frank Sumner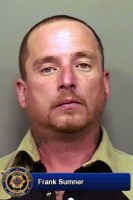 Name: Frank Huber Sumner
DOB: 8/17/73
Given Address: 724 Clayton Drive, Clarksville, TN
Booked Into: Montgomery County Jail
Charged With: Aggravated Robbery
Bond: $50,000.
Also, the Bond for the original Robbery charge was changed to $250,000.  Total Bond is $300,000.
Sections
News
Topics
Aggravated Robbery, Bond, Clarksville Police Department, CPD, Frank Huber Sumner, Hillwood Drive, Montgomery County jail, robbery, Whitfield Court