Clarksville, TN – On December 31st, 2010, around 9:30pm, Aaron Richard Will was taken into custody by Officer Jeff Danault for Criminal Impersonation of a Police Officer.
Criminal Impersonation in this particular situation constitutes a Class A Misdemeanor.
On December 29th, 2010, around 1:00pm, a Clarksville police officer, Jeff Danault, was off-duty and in his personal vehicle driving on Wilma Rudolph Blvd. when a white Crown Victoria approached from the rear at a high rate of speed and started to tailgate him, almost rear-ending Danault's vehicle.
Denault had to stop at a red-light and the vehicle was behind him. The man inside was making hand gestures and activated what sounded like a PA system in what Danault construed as an effort to get him to pull over.
More on the story can be found at Clarksville Online:  Possible Police Impersonator.
The Tennessee Code Annotated is listed at the bottom of the article.
Aaron Will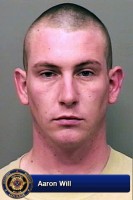 Name: Aaron Richard Will (W/M)
DOB: 9-16-90
Given Address: 441 Needmore Road, Clarksville TN 
Booked Into: Montgomery County Jail
Charged With: Criminal Impersonation
Bond: $1,000.
Criminal Impersonation
(a) A person commits criminal impersonation who, with intent to injure or defraud another person:
Assumes a false identity;
Pretends to be a representative of some person or organization;
Pretends to be an officer or employee of the government; or
Pretends to have a handicap or disability.
(b) A person commits criminal impersonation who pretends to be a law enforcement officer for the purpose of:
Engaging in an activity that is ordinarily and customarily an activity established by law as a law enforcement activity; and
Causing another to believe that the person is a law enforcement officer.
(c)
Criminal impersonation under subsection (a) is a Class B misdemeanor. However, if the criminal impersonation was committed to falsely obtain a driver license or photo identification license, the maximum fine of five hundred dollars ($500.00) shall be imposed.
Criminal impersonation under subsection (b) is a Class A misemeanor.
[Acts 1989, ch. 591, § 1; 1990, ch. 983, § 1; 1999, ch. 374, § 2; 2007, ch. 355, § 1.]