APSU Men's Baseball

Clarksville, TN – Nowhere is the influx of 17 newcomers more apparent than when a fan takes a look at Austin Peay baseball team's roster of catchers. A position which has seen the likes of A.J. Ellis, Tommy Smith, Matt Smith and – most recently – Trey Lucas take the reins; will have three freshmen and a senior competing for starting time behind the plate.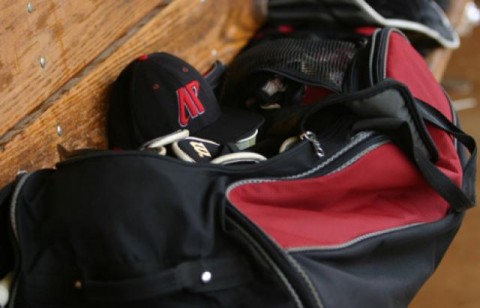 Heading into the 2011 campaign, head coach Gary McClure believes two of those freshmen – Florida native P.J. Torres and Colorado-native Matt Wollenzin – will be his starting catchers this season. The duo is penciled in to split each week's games with the primary starter catching twice during the Govs weekend series. Behind them, senior Haskell Fink will provide experience and occasional relief behind the plate and in the infield. Additionally, freshman Britte Underwood will continue to gain experience through spot appearances.
Torres joins the roster with the tools – offensively and defensively – that Govs' backstops have come to epitomize. He batted .500 with 30 RBI in his senior campaign at Miami's Coral Park High School and was a second-team All-Dade County selection. Torres caught every game of his junior and senior campaigns.
"P.J. is a tremendous defensive catcher with an arm like I haven't had," said McClure. "A.J. Ellis obviously had a great accurate arm. P.J. has been every bit as good as A.J. as a freshman. He has some ability and loves to catch."
Wollenzin brings the same toolset as Torres and will battle for the overall No. 1 tap. He batted .484 with 10 home runs and 30 RBI in his senior season at Lakewood, Colo., Green Mountain High School and was a first-team all-state selection.
"Matt is a great defensive catcher who knows the game," McClure said. "That's something I'll say that about both the freshmen, they know the game. Matt has a great understanding of what you want to do. He does a great job receiving and blocking, but doesn't have quite the arm that P.J. has.
"These guys are close enough I could start either of these guys but P.J. is our No. 1 going into the season. I see us playing two catchers a lot more than we have been able to in the past. Maybe one guy gets three starts and the other gets two starts a week, but they can do the job for us."
Fink was the Govs backup at both catcher and third base last season, making six starts behind the plate. His overall numbers declined from his sophomore campaign, but he did bat .429 in limited conference at-bats.
Underwood brings his own impressive credentials to the backstop position. He was a third-team All-Midstate selection by the Tennessean after earning All-District 9-AAA regular-season and tournament team honors.
"Haskell and Britte will have their opportunities during the season," said McClure. "They have to be ready to answer the call when they get the chance."
The Govs season could well be defined by how its catching corps develops, both offensively and defensively. The thing for sure is the potential exists for Austin Peay to continue its success at developing some of the league's finest catchers.