Clarksville, TN – Clarksville Mayor Kim McMillan joined with members of the city's Information Technology Department on Tuesday, March 22nd, to recognize the 35th anniversary of Jeannie Hiller's employment with the city. Hiller is the IT Department's executive assistant.
"I've been here though several mayors," Hiller told Mayor McMillan. "There were some good days and some bad days, but the good days outweighed the bad."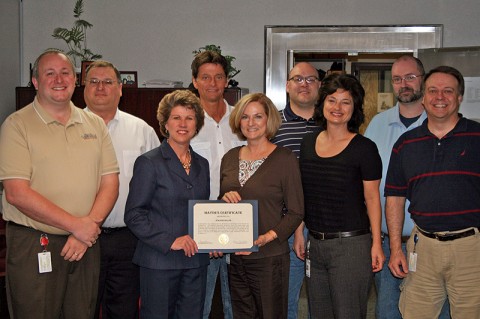 "I want you to know that we appreciate what you do, and we hope you are here for many more years," The Mayor said as she presented Hiller a certificate of appreciation for service to the city.
IT Director Doug Sampley said Hiller is the glue that holds the department together.
"Anyone who has had the privilege of working with Jeannie knows that she is a dedicated, hardworking employee," Sampley said. "She has helped me in more ways than I can count since I have been here.  She is an indispensable part of the IT department and the city as a whole."