Clarksville, TN –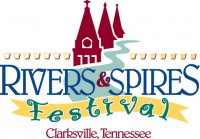 To maximize your fun at Rivers and Spires, start making your plans now. First, look at the options for parking because many streets are closed. You can get a map of where the events are by going to http://www.riversandspires.com. Make note of the streets that are closed so that you won't waste time by trying to enter them.
Next get a copy of the schedule, again at the Rivers and Spires web site. You will note that on Thursday and Friday, opening times are in the afternoon (4:00 p.m. and 5:00 p.m. respectively), but on Saturday, events begin at 10:00 a.m.
For almost every time slot, multiple choices are available. Look at the variety and make your list along with the location so that you don't miss anything you really want to see. With all the activities available, it is easy to get sidetracked and miss your favorites if you don't have a plan.
Remember that the sun will be hot during these events and dress accordingly. Wear sunscreen and layer your clothes so that you can add or take off light-weight shirts or jackets if necessary. Be sure that you have on comfortable shoes because the many options require walking from place to place. Sunhats and sunglasses are essential as well.
If you have small children with you, be sure to have them in a stroller or carriage of some variety; bring along whatever they will need throughout the day. The KidzZone has wonderful games and activities for kids so take advantage of this family fun time.
Put a rain hat or collapsible umbrella in your gear in case a shower should pop up. Tennessee weather can be rather unpredictable. Canopy style awnings and large-scale shade umbrellas will not be allowed in the festival grounds. These items block the view of other persons, and everyone deserves the right to see the stages…including you.
Plan what food you'd like to purchase and buy early. With thousands of people on hand, lines can get long and frustrating if you wait until you're hungry. Remember that outside food is not allowed. The sale of food and drink pays for this free event so do your share by supporting the vendors.
These items are banned: coolers, outside foods or beverages, refillable containers, glass bottles, skateboards, roller blades, laser pointers or weapons of any kind.
Rivers and Spires is now one of the premier festivals of the south. Clarksville and Montgomery County can be proud of this homegrown weekend of fun.
Come on out and have a great time!