APSU Men's Tennis

Paducah, KY – Freshman Jasmin Ademovic closed a three-set match with a win to put Austin Peay State University men's tennis team on top of Tennessee Tech, 4-1, in Ohio Valley Conference Tournament semifinal action, Saturday, at the Larry J. Heflin Tennis Center.
The win moves the Govs (14-5) into the OVC Tournament championship match for the first time since 1987, where they face regular-season champion Eastern Kentucky at 2:00pm, Sunday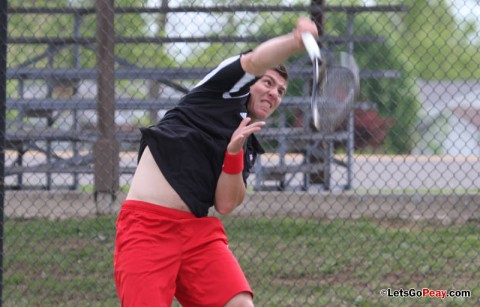 Not only did Ademovic earn the deciding win, he also picked up a win at No. 2 doubles, alongside fellow freshman Remi Calleja, to help the Govs win the doubles point. Freshman Joao Pagan and sophomore John Storie, meanwhile, blasted TTU's No. 3 doubles with an 8-0 win.
"I like the fact that our freshman class really stepped up," head coach Malik Tabet said. "These kids grew up a lot. We had this week in between Jacksonville State and the tournament to slow it down and get some energy.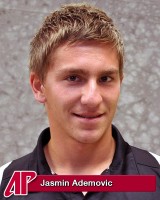 "I feel like that really helped them a lot in digesting all the things we've been working on. Today, we applied everything we've been talking about perfectly."
Tennessee Tech (8-9) did not go quietly in the singles competition. Storie had to battle for a straight-set win at No. 6, trailing in each set, but fighting to back to win. Bailey, meanwhile, won the first completed match at No. 3 singles. That left four matches on the court and each of those split the opening sets.
Sophomore Henrique Norbiato was leading, 4-2, in his third set, while Pagan was serving for the match at No. 4 with two points to go. As the pressure mounted, it was Ademovic who put away the final points and called the celebration to his court.
"Tennessee Tech came out strong and they played solid tennis," Tabet said. "This was one of the best matches I've seen this year. I felt like the players were very focused. It was a good match and it was tight all the way through. It was good tennis. It was very even."
It marks the second time in two years at Austin Peay for Tabet to take a team to OVC championship game – last year the Lady Govs team won the title. This time, the Govs will have square off with an Eastern Kentucky team which ran the table to an undefeated conference mark.
"We achieved what we wanted to achieve this season," Tabet said. "Being in the final is a treat for us and we're going to make the best out of it."