APSU Men's Baseball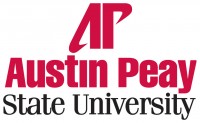 Clarksville, TN – Senior closer Ryne Harper struck out the seventh man he faced in the ninth inning and Austin Peay State University's baseball team secured its seventh Ohio Valley Conference championship with a 7-5 victory against Southeast Missouri, Sunday, at Raymond C. Hand Park.
As has been the case many times this season, Austin Peay (27-22, 15-5 OVC) made its run after the game's halfway point and then had to hold on late to secure the win. Trailing 3-1 entering the sixth, the Govs got back-to-back one out singles from center fielder Michael Blanchard and third baseman Greg Bachman. First baseman John Hogan blasted a 2-0 offering over the wall in right, giving the APSU a 4-3 lead.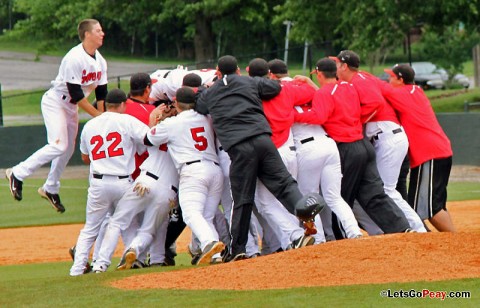 The Govs extended their lead in the seventh with three additional runs. Left fielder Cody Hudson pushed across the first run of the frame on a fielder's choice as Southeast Missouri was unable to catch Hankins on a play at the plate. Two batters later, Bachman brought home a run with a bases-loaded sacrifice fly. Hogan followed with a RBI single to give the Govs a 7-4 advantage.
Southeast Missouri (29-19, 11-8 OVC) did not go quietly, sending seven men to the plate in the ninth against Ryne Harper. The Redhawks loaded the bases with no outs as Harper walked the leadoff hitter, first baseman Casey Jones hit an infield single of the umpire at second base and center fielder Blake Slattery reached on an infield single that shortstop Reed Harper deflected.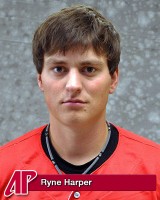 Ryne Harper slowed the Southeast Missouri rally with by inducing designated hitter Ky Burgess into a double play that scored a run. However, he walked the next batter he faced and then surrendered an infield single that ricocheted off his glove. With the tying run on base, Harper blew a fastball past shortstop Kenton Parmley whose swing could not catch up, ending the game.
Austin Peay starter Zach Toney (5-2) picked up the victory with a gutty performance. After facing the minimum through two innings, he worked through trouble in both the third and fourth innings, surrendering three runs. The Govs defense helped him out in both innings, cutting down an attempted delayed double steal in the third for the final out and turning a double play in the fourth that short circuited another Redhawks rally.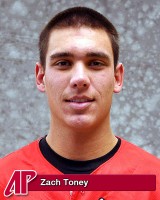 Toney settled in from there and retired 10 of the final 12 batters he faced. He finished the game allowing three runs on five hits and four walks, striking out just one batter over seven innings.
Reliever Mike Hebert tossed a scoreless eighth inning before turning the ball over to Harper, who allowed two runs on three hits and two walks in one inning.
Southeast Missouri starter Brad LaBruyere (7-2) suffered the loss after allowing seven runs on eight hits over 6.1 innings. After allowing an unearned run in the first, he retired 13 of the next 15 batters he faced before the Govs one-out rally in the sixth.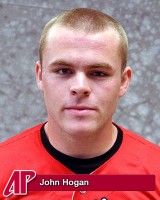 At the plate, Hogan led the Govs with a 2-for-4, four RBI outing. Bachman added a 2-for-3, two RBI performance that was all the more impressive as he played the final eight innings with an injury he suffered attempting to stretch out a single in the first. Reed Harper extended his hitting streak to 26 games with a fifth-inning single that was his only hit of the contest.
Jones led Southeast Missouri's offense with a 3-for-3, one RBI outing that included a walk as he reached base in all four plate appearances and was the only Redhawks player with a multi-hit performance.
Austin Peay returns to action with a 6:00pm, Wednesday contest at Lipscomb.
Box Score
Southeast Mo. 5 (29-19,11-8 OVC)
Player 
 ab 
  r 
  h 
rbi 
 bb 
 so 
 po 
  a 
lob 

PARMLEY, Kenton ss 

4 

0 

0 

0 

1 

1 

2 

1 

2 

RUPP, Tim 2b 

3 

0 

0 

1 

0 

0 

4 

1 

1 

ADAMSON, Michael lf 

4 

1 

1 

0 

0 

1 

5 

1 

0 

MOSES, Trenton 3b 

3 

2 

1 

0 

1 

0 

0 

1 

0 

JONES, Casey 1b 

3 

1 

3 

1 

1 

0 

3 

1 

0 

SLATTERY, Blake cf 

4 

0 

1 

0 

0 

0 

5 

0 

1 

BURGESS, Ky dh 

3 

1 

0 

0 

1 

1 

0 

0 

0 

HASELTINE, Louie rf 

3 

0 

1 

0 

1 

0 

1 

0 

0 

TIERNEY, Jesse c 

1 

0 

0 

0 

1 

0 

3 

0 

0 

   CAMPBELL, Kody ph 

1 

0 

1 

0 

0 

0 

0 

0 

0 

   BIESER, Cole pr 

0 

0 

0 

0 

0 

0 

0 

0 

0 

LABRUYERE, Brad p 

0 

0 

0 

0 

0 

0 

1 

1 

0 

   PRICKETT, Ryan p 

0 

0 

0 

0 

0 

0 

0 

0 

0 

   HULL, Christian p 

0 

0 

0 

0 

0 

0 

0 

1 

0 

Totals 

29 

5 

8 

2 

6 

3 

24 

7 

5 

  

Austin Peay 7 (27-22,15-5 OVC)
Player 
 ab 
  r 
  h 
rbi 
 bb 
 so 
 po 
  a 
lob 

GAUTIER, Rolando rf 

4 

1 

1 

0 

0 

0 

4 

0 

0 

BLANCHARD, Michael cf 

2 

2 

2 

0 

2 

0 

5 

0 

0 

BACHMAN, Greg 3b 

3 

1 

2 

2 

0 

0 

1 

2 

0 

HOGAN, John 1b 

4 

1 

2 

4 

0 

0 

8 

1 

0 

WOLLENZIN, Matt dh 

3 

0 

0 

0 

0 

1 

0 

0 

1 

   CHILDRESS, Tyler ph 

1 

0 

0 

0 

0 

0 

0 

0 

0 

HARPER, Reed ss 

4 

0 

1 

0 

0 

0 

0 

4 

0 

HANKINS, Jordan 2b 

4 

1 

1 

0 

0 

1 

3 

4 

0 

TORRES, P.J. c 

2 

0 

0 

0 

0 

1 

3 

0 

0 

HUDSON, Cody lf 

3 

1 

0 

1 

0 

0 

2 

0 

1 

TONEY, Zach p 

0 

0 

0 

0 

0 

0 

1 

1 

0 

   HEBERT, Mike p 

0 

0 

0 

0 

0 

0 

0 

1 

0 

   HARPER, Ryne p 

0 

0 

0 

0 

0 

0 

0 

0 

0 

Totals 

30 

7 

9 

7 

2 

3 

27 

13 

3