Clarksville, TN – On June 22nd, around 5:53pm, a stolen vehicle was involved in an injury crash at the intersection of Martin Street and Crossland Avenue. A 2003 Ford Expedition driven by an unknown male was traveling north on Martin Street, did not stop at the Stop sign, and collided with a 97 Ford F-150, driven by Larry Rogers, 55, of Clarksville traveling west on Crossland Avenue.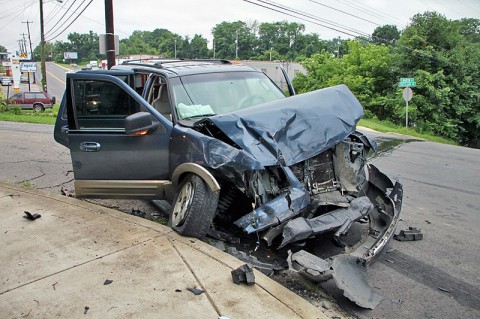 After the crash, the driver of the Expedition fled from the scene. Officers combed the area but could not locate the unknown driver.
Larry Rogers was transported to Gateway by ambulance with neck and back pain. He was treated and released.
When the crash occurred, Police were unaware the vehicle was stolen. But, 10 minutes after the crash happened, the vehicle's owner called Police and reported the vehicle as stolen.
The investigation is ongoing.  Anyone with information can call, 931-645-8477.
Photo Gallery