APSU Sports: Women's Soccer

Chattanooga, TN – A pair of bookend goals by sophomore Tatiana Ariza opened and closed a 4-0 win by Austin Peay State University women's soccer team against Chattanooga, Sunday afternoon.
Ariza scored the game's first goal on a penalty kick in the 39th minute to make it 1-0, and added the game's fourth goal in the 82nd minute. Not only was it her third career multi-goal game, it also was her second consecutive after netting a hat trick against Alabama A&M, Friday.
The Lady Govs swept their season-opening road swing to improve to 2-0 overall. Chattanooga, who defeated Tennessee Tech, Friday, evened their overall mark at 1-1.
Austin Peay's group of impressive young strikers was highly effective against the Mocs, putting 10 of their 13 shots on goal. Ariza's penalty kick goal, however, was the only score in the first half, giving the Lady Govs a 1-0 halftime lead.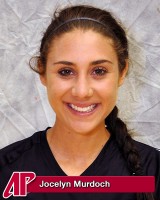 Following the break, APSU went on a frenzy to break open the game. A combination play by sophomore Jocelyn Murdoch and Tatiana Ariza set up a cross that freshman Claire Pultz finished, making it 2-0 in the 55th minute.  It was Pultz's fifth goal of the season.
APSU's high-pressure attack led to an empty net goal by junior Emily Perkins in the 72nd minute on a failed Mocs clear. For Perkins, it was her season's fourth goal after netting three against Alabama A&M.
Credit the Lady Govs defense in holding Chattanooga to only nine shots, allowing five on goal while the two teams were even with two corners each. Donna-Kay Henry had three shots while Becca Smith had two for the Mocs.
Lady Govs senior Mackenzie Ladd and sophomore Haley Shoaff split time in net for the second consecutive game. Ladd made three first-half saves and Shoaff made two stops in the second half.
With two games under the belt, Austin Peay's offense has had no trouble finding the back of the net. With 18 goals in 180 minutes of action, the Lady Govs front line already has the program's eighth-best all-time season scoring mark. Tatiana Ariza, meanwhile, is now the program's second all-time leading scorer with 20 career goals. Sunday's win also marked the second-straight season for APSU to open the season 2-0.
Austin Peay is now set for its home opener at 7:00pm, Tuesday Auguat 30th, against Union University.