APSU Sports Information: APSU Golf

Hebron, KY – Austin Peay State University men's golf team rallied from eight shots back to win the UC Bearcat Invitational, Tuesday, at Traditions Golf Club.  It was Austin Peay's first tournament win since the 2009 Ohio Valley Conference Championships.

A final-round 290 gave Austin Peay a three-round 868, moving them past Southeast Conference member Kentucky by one stroke (869) and two-round leader Dayton (870), which finished third. OVC member Eastern Kentucky (873) finished fourth while Cleveland State and Georgetown (881) tied for fifth.

"We've been in this position a couple of times and we finally got over the hump," head coach Kirk Kayden said. "They were able to grind out the win today and it was good to see. To have 15 rounds of golf and the highest score at 75, that's pretty good. It's always good when you get down to the end and you're not sure who's going to be a counter. It was an impressive tournament for us."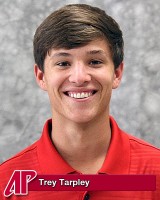 It was an overdue reward for Kayden's team which made its second appearance in the final pairing, Tuesday. Ironically, it was alongside Kentucky and Dayton – the same two teams – at Kentucky's UK Fall Invitational, back in mid-September. This time, the Govs were able to hang on for the win.
Sophomore Trey Tarpley sparked the Govs with a final-round two-under par 70, climbing to fifth individually. However, for the Govs it was a matter of all-around performance as all five players landed inside the top-20.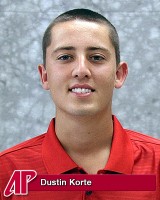 As final-round play goes, Austin Peay counted along with Tarpley's 70, a pair of 73s by junior Dustin Korte and freshman Tucker Wallace, and a pair 74s by sophomores Anthony Bradley and Marco Iten.
"Trey had a great round," Kayden said. "He really came through in the clutch.
"It was one of the best team rounds of golf I've ever seen. To have five guys in the top 20 is unbelievable. You can pick out a lot of things we did well. The pins were in some very tough positions, but we played smart."
Korte and Wallace finished the tournament with identical 218s to tie for 10th overall, while Bradley finished 17th with a 219 and Iten was 20th with a 220. Perhaps the most remarkable accomplishment for the Govs was to have the entire team finish within four strokes of each other.
Austin Peay has only one fall tournament remaining – the F&M Bank APSU Intercollegiate – coming up, next Monday and Tuesday, at the Links at Novadell.
Sections
Sports
Topics
Anthony Bardley, APSU, APSU Athletics, APSU Golf, APSU Men's Golf, APSU Sports, Austin Peay State University, Bearcat Invitational, Cleveland State, Dayton, Dustin Korte, Eastern Kentucky, F&M Bank APSU Intercollegiate, Georgetown, Governors, Hebron KY, Kirk Kayden, Marco Iten, Ohio Valley Conference, OVC, OVC Championship, The Links at Novadell, Traditions Golf Club, Trey Tarpley, Tucker Wallace, UK Fall Invitational