Clarksville, TN – The Roxy Regional Theatre is currently staging a "thrillingly ingenious" adaptation of Charles Dickens' epic novel "A Tale of Two Cities." Directed by John McDonald, "A Tale of Two Cities" stars Michael Mizwicki and Jonathan Reed Wexler as Sydney Carton and Charles Darnay, the English lawyer and French aristocrat caught up inextricably in the violence and bloodshed of the French Revolution.  Also featured are Ryan Bowie, Ashton Crosby, Brianna Hertzberg, Ted Jones, Travis Kendrick, Alan Lee, Phil Perry, Linda Speir and Joylene Taylor.
The play follows Lucie Manette, a young woman raised as an orphan and a ward of Tellson's bank as she learns that her father is still alive and has recently been released from the infamous Bastille prison having been unjustly imprisoned for the last eighteen years. She goes to France to bring him home to England. Traveling home with her father by ship she meets Charles Darnay, a French citizen and London resident.
Darnay is later charged with treason and Lucie is called to testify about the events of that voyage.
He is saved when a witness testifies that he was certain he saw him at a particular time in the coffee room of the Dukes Head Tavern. This allows Sydney Carton, a member of Darnay's defense team to erode the credibility of the witnesses' identification by removing his wig revealing that he bears a striking resemblance to Darnay, and so he is freed.
Both Darnay and Carlton become friends of the Manette family.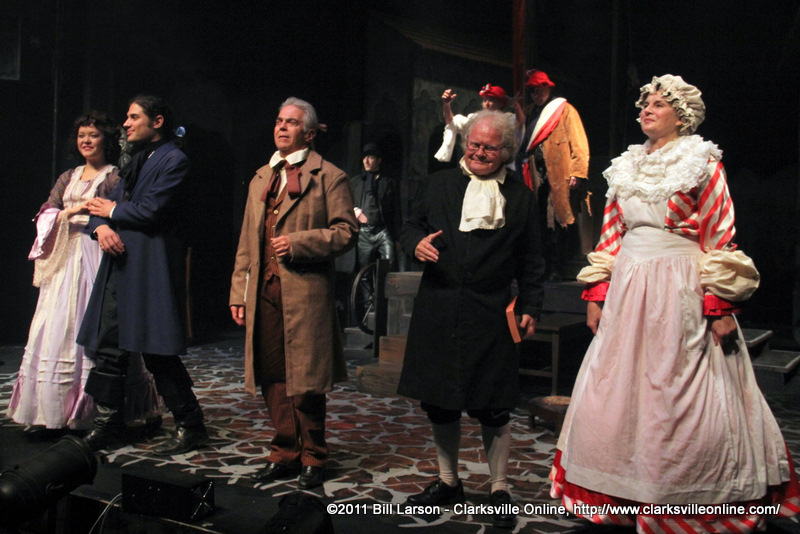 Darnay and Lucie fall in love, and this causes Carton to confide his feelings for her. She asks if she can help him, and he says no, but he wants her to know that he cares for her deeply. Lucie eventually marries Darnay.
Darnay returns to France visit to his uncle the Marquis St. Evrémonde, a heartless French aristocrat. When a peasant's child is killed by his carriage, the Marquis blames the peasants for having been in his way and damaging his horses. The next morning he is found murdered. Darnay returns to England soon after.
The winds of the French Revolution are blowing across France when Darnay receives a letter from an old friend who has been put in prison unjustly and who fears that he will soon be executed.
When Darnay returns to France in order to intervene on his friend's behalf, he quickly realizes that the situation there is worse than he could have imagined. The peasants have overthrown the government and are executing anyone who they feel represents the old guard. Darnay is taken into custody, though he tries desperately to explain that unlike his uncle and father, he is on the peasants' side. They don't believe him and send him to prison. When Lucie and her father learns what happened they rush to France.
To find out what happens next you either have to go see a Tale of Two Cities at the Roxy Regional Theatre; or read the book. While I love a good book, it simply can't beat the all star cast's performance of this timeless literary classic. They bring the Dickens tale to life on stage.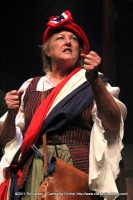 Watching the performance I can't help but to see the similarities between pre-revolution France and what is going on in the United States today. It is simply chilling to see. You have 1% of the population with much of the wealth and all of the political power, and a callous disregard for the welfare of those less fortunate than themselves; it's a tale right out of Dickens.
The set is a marvel it easily converts from the Bastille, to a court house, to a carriage. Those who saw the Sound of Music at the Roxy may well recognize certain elements which are seamlessly reused in the production of A Tale of Two Cities.
As I said above the cast was simply amazing. The intensity and emotion of the cast is clearly visible in their performances.
Joylene Taylor as she channels the intensity of a French revolutionary.
Brianna Hertzberg as she is pulled from the grasp of her husband after he has been sentenced to death.
Michael Mizwicki as he shows Lucie the depths of his love for her.
Ryan Bowie as he channels the arrogance of the French nobility.
Ashton Crosby as he recovers from the brink of insanity to the lengths he goes to try and save his son-in-law.
Alan Lee's rage after his son killed by the Marquis St. Evrémonde.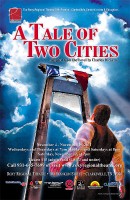 And these are just some of the standout moments from this wonderful production.
A Tale of Two Cities runs November 4th through November 19th, playing Fridays and Saturdays at 8:00pm, with a 2:00pm matinee on Saturday, November 12th.  Tickets are $15.00 (adults) and $10.00 (ages 13 and under) and may be reserved online at www.roxyregionaltheatre.org, by phone at 931.645.7699, or at the theatre during regular box office hours (9:00am – 2:00pm, Monday through Friday).
Photo Gallery
The Cast
1775: Recalled To Life

 
 
 
Mr Jarvis Lorry
 
Ted Jones
Miss Pross
 
Linda Speir
Lucie Manette
 
Brianna Hertzberg
 
 
 

1757: Dr Manette

 
 
 
Dr Manette
 
Ashton Crosby
The Marquis St Evremonde
 
Ryan Bowie
Evremonde (His Brother)
 
Jonathan Reed Wexler
Peasant Boy
 
Michael Mizwicki
 
 
 

1775: The Wine Shop of Defarge

 
 
 
Madame Defarge
 
Joylene Taylor
Defarge
 
Phil Perry
 
 
 

1780: The Old Bailey

 
 
 
Judge
 
Travis Kendrick
Sydney Carton
 
Michael Mizwicki
1st Spectator
 
Joylene Taylor
2nd Spectator
 
Linda Speir
Prosecuting Attorney
 
Ryan Bowie
Charles Darnay
 
Jonathan Reed Wexler
Mr John Barsad
 
Alan Lee
Mr Stryver
 
Phil Perry
Crown Witness
 
Alan Lee
 
 
 

1780: France

 
 
 
Gaspard
 
Alan Lee
Madame Defarge
 
Joylene Taylor
Defarge
 
Phil Perry
Gaspard's Child
 
Isabella Andrews-Zachary, Summer Aoki, Ali Arnold, Sydney Barksdale, Scott Hall, Madeline O'connor, and Georgia Smith
Gabelle
 
Alan Lee
 
 
 

1789-94: The Revolution

 
 
 
The Governor of the Bastille
 
Ryan Bowie
Soldier
 
Alan Lee
Madame Defarge
 
Joylene Taylor
Defarge
 
Phil Perry
Revolutionary Judge
 
Travis Kendrick
Chemist
 
Ryan Bowie
Seamstress
 
Brianna Hertzberg
 
 
 
Peasants, Coachmen, Postilions, Revolutionaries, Servants, Redcaps and Citizens played by members of the company
About the Company
Ted Jones
Ted Jones made his Roxy debut in 1987 as George in Sunday in the Park with George.  Since then he has appeared in over two dozen Roxy productions, including the 1992 and 2010 productions of Into the Woods, A Little Night Music, Anything Goes, Sweeney Todd, Taming of the Shrew, The Boys Next Door, Triumph of Love, Forever Plaid, Romeo and Juliet, Titanic: The Musical, CATS, As You Like It, Around the World in 80 Days and, most recently, as Marcellus in Hamlet.
Linda Speir
Linda Speir, who hails from Nashville, Tennessee, is delighted to be back at the Roxy.  Previously, she has been seen on this stage as Birdie in The Little Foxes, Mrs. Tilford in The Children's Hour, Rebecca Nurse in The Crucible, Eunice in A Streetcar Named Desire and, most recently, in The War of the Worlds.  Linda also performs at various Nashville theatres, as well as doing commercials.
Brianna Hertzberg
Brianna Hertzberg is honored to return to the Roxy, following her debut last season in The Civil War and subsequent performances in Beehive: The '60s Musical Sensation and The War of the Worlds.  Following Two Cities, Brianna will appear as Mary and Belle in A Christmas Carol.  Other past credits include: Natalie/Ed in All Shook Up, Cinderella in Into the Woods, Fantine in Les Miserables, and Ado Annie in Oklahoma! Thanks to Mom and Dad for their love and support and to the cast for treating her like family. "Phil. 4:13."
Ashton Crosby
Ashton Crosby, who most recently appeared on the Roxy stage as Mark Twain, has previously appeared as Polonius in Hamlet, General George Rogers Clark in Bea(u)tiful in the Extreme and Giles Corey in The Crucible.  Other recent credits include appearances at New Jersey, Pennsylvania and Virginia Shakespeare Festivals.  He also performed off-Broadway in Slaughterhouse Five, as Kurt Vonnegut, and in George Bernard Shaw's Mrs. Warren's Profession.
Ryan Bowie
Ryan Bowie has made Clarksville his home, moving from NYC in January 2011, and is excited to return to the Roxy stage for the 29th season.  Most recently seen in The Sound of Music, Ryan's other past Roxy credits include Almost Heaven, The Civil War, Bea(u)tiful in the Extreme (William Clark), Hamlet (Barnardo/Rosencrantz), Ain't Misbehavin' (Director/Choreographer), Once Upon A Time, A Christmas Carol, Around the World in 80 Days, Dracula (Jonathan Harker), Into the Woods (The Baker) and Forever Plaid (Jinx).  Other professional credits include Jesus in Godspell and Hamilton in the NYC premier of Dotty Dot: A New Children's Musical, Freddy in My Fair Lady (Midwest), Jonas in The Giver (Chicago), Ryan in High School Musical (Midwest), Jack Chesney in Charlie's Aunt (Midwest), Dick in Dames at Sea (Maryland), J. Pierpont Finch in How to Succeed… (New York) and Matt in The Fantasticks (New York – tour). Training: Frostburg State University – BA Theatre: Acting & BA Music: Vocal Performance.  Special thanks to his very supportive friends and family.  Stay up to date at www.ryanbowie.com.
Jonathan Reed Wexler
Jonathan Reed Wexler, who made his Roxy debut with The War of the Worlds, studied acting at The Lee Strasberg Theatre & Film Institute and University of Wisconsin-Madison.  He was recently Benedick in Much Ado About Nothing at Roy Arias in New York City and played a supporting role in The Stand Up (Austin Film Festival) with Aidan Quinn.  Thanks to my darling Kae, always.
Michael Mizwicki
Michael Mizwicki is thrilled to be performing in A Tale of Two Cities, following his Roxy debut in The War of the Worlds.  Earlier this year he was seen in another of Dickens' stage adaptations with Oliver at the Gallery Players in Brooklyn.  Other theatre credits include: The Crucible, Dracula, The Goat, or Who Is Sylvia?, and Trust.  He studies improv at Second City Chicago and is a graduate of the American Academy of Dramatic Arts in NYC.  A special thanks to Nate and John for this wonderful opportunity and also to his family and friends for their endless love and support.
Joylene Taylor
Joylene Taylor is excited to be back at the Roxy for A Tale of Two Cities, following her appearance as the Mother Abbess in The Sound of Music.  At the Roxy, she has appeared in roles that include Eliza Doolittle in My Fair Lady, The Witch in Into the Woods and Hesione in Triumph of Love.  Other roles include Clairee in Steel Magnolias, Aunt March in Little Women and Muddy in Nevermore.  She is presently living in Atlanta and appreciates the opportunity to be a part of the Roxy community again.
Phil Perry
Phil Perry is pleased to return to the Roxy, having appeared in The Crucible (Tom Putnam), The 25th Annual Putnam County Spelling Bee (Douglas Panch), Poe Unearthed, A Streetcar Named Desire (Steve) and, most recently, in The War of the Worlds.  Based in Nashville, he has performed at regional professional theatres for the past 23 years.  Love to Lee Ann for her love and support.  Phil is one of the 99 percent.
Travis Kendrick
Travis Kendrick was last seen on the Roxy stage as Joseph in Joseph and The Amazing Technicolor Dreamcoat.  Previous Roxy credits include: Beautiful In The Extreme, The Civil War, Hamlet (Guildenstern, Osric), Once Upon A Time (Wolf, Rumpelstiltskin, Flounder, et al), A Christmas Carol (Fezziwig, Christmas Present, et al), Around the World in 80 Days (Passepartout) and Dracula: The Musical (Arthur Holmwood).  New York City credits include: Flappers and Filosofers (Clark, choreographer; Rag 'N Bone Theatre Company) and Dotty Dot: A New Children's Musical (director, choreographer, co-writer; Rising Sun Performance Company).  Some other professional credits include: Peter Pan (Nibs, Gretna Theatre), High School Musical (Zeke Baylor, Maples Repertory Theatre), Big River (Ben Rogers, Loessin Summer Theatre), Anything Goes (Steward, Barksdale Theatre) and Ragtime (Harry Houdini, Pittsburgh Playhouse). Travis received his training at Point Park University's Conservatory of Performing Arts with a B.F.A. in Musical Theatre.  www.traviskendrick.com
Alan Lee
Alan Lee is making his Roxy debut with A Tale of Two Cities, but this Nashville actor has kept busy the last few years in productions for Boiler Room Theatre, Street Theater, Tennessee Women's Theater Project, The Renaissance Center and Kentucky Rep, among others. Some of his favorite roles have included Sweeney in Sweeney Todd, Will Rogers in Will Rogers Follies, Tevye in Fiddler on the Roof and Salieri in AMADEUS. This year Alan also portrayed Texas icon Kinky Friedman in Ted Swindley's (Always, Patsy Cline) new play Becoming Kinky: The World According to Kinky Friedman. This past Summer Alan was seen in Vacation Bible Schools worldwide as Chef Gourmando in the video "Shake It Up Cafe" and can be heard voicing cartoon vegetables in a number of Veggie Tales projects, including two characters in The Pirates Who Don't Do Anything: A Veggie Tales Movie.
Tom Thayer
Tom Thayer has been Managing Director of the Roxy Regional Theatre since its inception in 1983.  Training includes Austin Peay State University and Lambuth College, and he is a graduate of the American Musical and Dramatic Academy, NYC.  While living in New York, he worked as a public relations liaison for the Metropolitan Museum of Art, created and taught dance programs at the Dwight School and created and taught young dramatics for the Rhodes School.  He is the founder of the Clarksville Theatre Guild, as well as the Roxy Regional Theatre, and has performed off-Broadway as well as throughout the South.  With Artistic Director John McDonald, he created the Roxy's Professional Company and serves as a director of the Summer Drama Camp, which is sponsored in conjunction with the Clarksville-Montgomery County Parks and Recreation Department.
John McDonald
John McDonald is the founder and Artistic Director of the Roxy Regional Theatre.  A graduate of the American Academy of Dramatic Arts, as an actor John has worked with the New York Shakespeare Festival,  Macbeth with James Earl Jones; Long Wharf Theatre, A Lion in Winter with Ralph Waite; and productions of Long Days Journey Into Night (James); Macbeth (Macbeth); Who's Afraid of Virginia Woolf? (George); and numerous others.  As an instructor, he has taught theatre at the American Academy, The Rhodes School, The Dwight School, Hewitt, and is the creator of the Roxy Saturday Workshop, an acting program for young performers.  Writing and production credits include, among others, Jekyll and Hyde, The Red Badge of Courage, Dorothy Dix: Speaks!, Nora Witzel: A Very Curious Fella, The Picture of Dorian Gray, All Quiet on the Western Front, Poe Unearthed and Headin' South, Goin' North for the Fourth Annual Clarksville Writers Conference.
Adam Kurtz
Adam Kurtz (Production Stage Manager / Company Manager / Sound Designer) is a native of Detroit, Michigan. He is a graduate of Wayne State University, where he received a BFA in Theatre in Design / Technology, specializing in Stage Management. This is his fourth season at the Roxy, and he is excited to be back. His previous Roxy credits include CATS, RENT, The 25th Annual Putnam County Spelling Bee, A Streetcar Named Desire, Ring of Fire, Of Mice and Men, Forever Plaid, Into the Woods, Shout, Dracula, Around the World in 80 Days, Ain't Misbehavin', The Civil War, Almost Heaven and The Sound of Music, among others.  While here at the Roxy, Adam has also had the opportunity and honor to function as the Sound Designer for numerous productions. He has also been able to function as the Lighting Designer and Projection Designer from time to time.  Adam would like to thank Tom and John for this wonderful opportunity and his family (Mom, Dad, Matthew, Lucky the dog, Aunt Nancy & Aunt Karen) for all of their love, support and encouragement.