Clarksville, TN – I know that you are cringing with guilt over all the delicious food you ate at Christmas and New Year's parties, but the fact remains—you aren't going to lose the extra pounds overnight. The only real diet that works is to cut back a little each day and exercise more.
That being said, I've found the greatest location for having a wonderful feast whether or not you are dieting. It's called Woody's Pizza. Rumor has it that the first location was Erin and then another opened in Dover. The perfection of the food demanded a move to where even more people could sample the scrumptious offerings.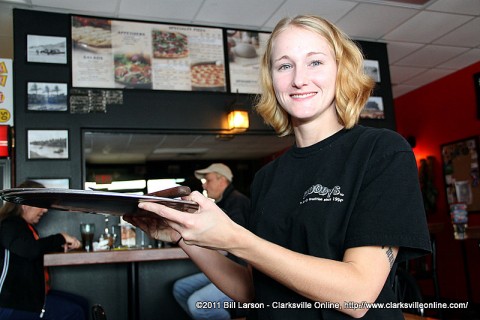 Woody's (hand-tossed) Pizza now has three locations in Clarksville—1477A Dover Road (Woodlawn), 939A Tracey Lane (101st and Whitfield), and 3-402 Cainlo Drive, Suite 500 (Tiny Town Road).
I ate at the Woodlawn location at lunch recently and can't wait to go back.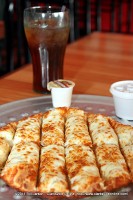 Bill Larson, the editor for Clarksville Online, and I began our feast with the best cheese breadsticks I've ever eaten in my entire life. They are served like a pizza that has been cut into small pieces from the pan-size circle of homemade dough. The hot cheese melted on top has finger-lickin' good flavor that keeps you coming back for more. Personally, I could make my entire lunch on these bread sticks.
However, our next delicacy was the barbecued chicken wings. The sauce is just right. It's not heavy or greasy or sloppy to eat. It flavors the chicken without overwhelming it. The wings are mostly meat and are described as "bone-suckin' good" by those who care to converse between bites. The alternative to the barbecued wings is those termed "hot and spicy" that we'll try on another visit.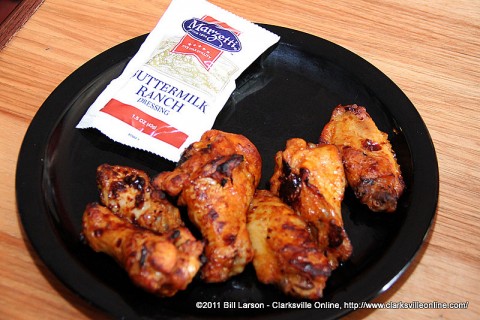 Then came the pizza. We had a large "Select" with pepperoni, sausage, onion, mushrooms and a substitution of fresh tomatoes for the usual green peppers. Two pieces each was all we could devour, leaving each of us enough for a take-home dinner. Other choices for pizza are the Hawaiian (ham and pineapple), All Meat (pepperoni, sausage, ham, ground beef and bacon), Veggie (mushrooms, green peppers, onion, black olives and green olives), Super Select (pepperoni, sausage, onion, green peppers, mushrooms, ham, ground beef, black olives and green olives), Four Cheese (mozzarella, provolone, cheddar and feta cheeses), Bacon Double Cheese Burger (bacon, ground beef, mozzarella and cheddar cheese), and Pepperoni Creation (pepperoni and more pepperoni).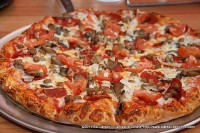 Just think: if you go back just to taste each and ever variety of pizza, you could have eight different selections accompanied by your soft drink or beer of choice! You can even purchase gift cards for introducing your friends and family members to this wonderful alternative to cooking.
Yes, of course, they have take out!
Amazingly, if you order a pizza, they give you dessert with your meal—such a deal! We had the cinnamon sticks. They were literally to die for! Sweet, hot, succulent bread with sugar and cinnamon melted on top—-aaahhh! Bliss!
They also have apple dessert pizza—and I've yet to try this but I can hardly wait.
Now if you're not in the mood for pizza (sigh!), you can start with either an Italian salad (lettuce, tomato, black olives, green olives, green peppers, ham, onion, pepperoni, cheese, croûtons, bacon and egg) or a house salad (lettuce, tomato, green peppers, ham, cheese, croûtons and onions). The choice for dressings is Italian, ranch, thousand island, bleu cheese, honey mustard or French.
Then there are the pastas—baked spaghetti with meat sauce and/or meatballs, baked lasagna, or baked manicotti.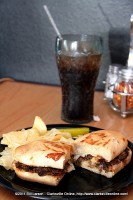 Last but not least are the subs (all of which are accompanied by chips and a drink included in the original price). You can have Italian, ham and cheese, pizza, roast beef, meatball, Philly steak, BLT with cheese, Cajun chicken, turkey, club, or the Ultimate (salami, ham, pepperoni, turkey, roast beef, cheese, onion, lettuce, tomato, mustard, mayo and Italian dressing).
At Woody's, all the dough is hand-tossed and is made fresh daily. Each serving is made fresh as you order it—and is well worth waiting for.
The restaurants are filled with military memorabilia on inviting red walls. Name tags are affixed to one wall with the names of Woody's patrons who are currently deployed.
Hours are Sunday through Thursday from 11:00 a.m. until 10:00 p.m., and Friday and Saturday from 11:00 a.m. until11:00 p.m.
One of the smartest additions to every table is your own personal roll of paper towels. You're going to love not having to ask two or three times for extra napkins. This is real finger food worth sampling again and again.
I don't know about you but I'm putting Woody's on my list of "do not miss this" destinations for 2012. My mouth is watering just thinking about it.
See you later! I'm heading for Woody's right now.
Photo Gallery
Map