Clarksville, TN – On Thursday, May 3rd, 2012, Clarksville Police Officers took into custody one adult male and one juvenile male who have been charged with the April 29th shooting death of 22 year old, Fort Campbell soldier, Taylor Hotzoglou on Victory Road.
The adult male is Giovanni Johnson  who gave a Victory Road address. Mr. Johnson is being held without bond in the Montgomery County Jail.
The second person charged is a 17 year old male who is being held in the Columbia Juvenile Detention Center.

The investigation is on-going and anyone with information is asked to contact the Clarksville Police Department.
For more on the story, see:
Clarksville Police are Investigating the Death of a Man found inside of a Car
Clarksville Police identify Deceased Man found inside a Car
Giovonne Johnson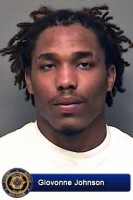 Name: Giovonne Johnson (B/M)
DOB: 3/ 27/ 94
Given Address:  438 Victory Road, Clarksville, TN
Arresting Officer: Michael Ulrey
Charged With: Homicide – Criminal, 1st Degree Murder, 2nd Degree Murder
Booked Into: Montgomery County Jail
Bond: $2,000,000
Sections
News
Topics
1st Degree Murder, 2nd Degree Murder, Bond, Clarksville Police Department, Clarksville TN, Columbia Juvenile Detention Center, CPD, Fort Campbell Soldier, Giovanni Johnson, Homicide, Juvenile, Michael Ulrey, Montgomery County jail, shooting, Taylor Hotzoglou, Victory Road