Clarksville Police need the Public's assistance finding Runaway Teenager

Clarksville, TN – On June 16th, 2012, Crystal Gilliland, left her 450 Appleton Drive address to stay with a friend in Clarksville Tennessee.
Since she left, she called several times from a Nashville Tennessee number saying that she was visiting a friend, Teddy Shaw, in Vanderbilt University Medical Center.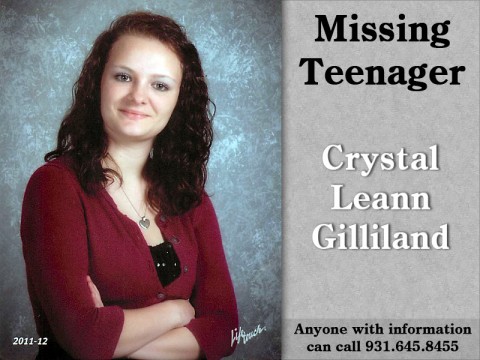 Her parents had told her to return home, at which time, she refused. The juvenile has quit communicating with the family and her location is unknown.
Crystal will use different last names such as: Taylor, Deretz, and Shaw and different date of births.
Crystal Leann Gilliland is a 17 year old white female girl, 5'3″, Brown hair, Green eyes born August 4th, 1994.
Anyone with information can call the TIPSLINE, 931.645.8455 or Detective Bramel, 931.648.0656, ext. 5161.