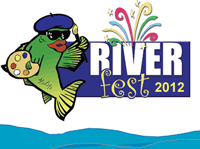 Clarksville, TN – On Saturday, September 8th, 2012 Riverfest will hold the First Annual Recycled Fashion Show. This free event is intended to educate the general public about recycling in a fun and interactive environment. Students and adults of all ages are invited to show their created fashions made from recycled materials.
The show will start at 4:00pm on the Blue Cross Blue Shield Stage at McGregor Park.
Any student or adult. One entry per person.
Divisions
Fashion show contestants shall be judged in the following divisions:
Youth category (17 and under)
Adult category (18 and up)
How To Enter
While the event is free, you must pre-register by Wednesday, September 5th, 2012. No walkups or late entries will be accepted. Contestants may pre-register online at  http://recpro.cityofclarksville.com. Once you long-in or set-up your family's profile, go to "Events & Family Entertainment" or search for "Riverfest". Add the event to your shopping cart and check-out.
Pre-registration is also accepted by mail or in person at our Main Office (102 Public Square, Clarksville, TN 37040).
Costume Specifications
All fashion show entries may contain only recyclable materials. These can include cardboard, steel/tin, recycled fabric or clothing, aluminum, plastics, paper cartons, chipboard, newspaper, mixed papers (magazines, junk mail, and catalogs), paper bags, and glass. New items may be used in small amounts (i.e.tape, glue, small embellishments).
*Recycled clothing or fabric may be used, but must be altered so as not to be worn in its original state. Footwear, jewelry, purses, and other accessories: May be used to enhance the overall costume but model must be able to safely walk across stage and up and down stairs. In any case, safe shoes must be worn whether they are recycled or street shoes.
Judging Categories
All contestants will be judged according to the following areas:
Use of Materials
Creativity
Overall Look
Awards
Only one overall winner will be awarded, but a first, second, and thrid place winner will be awarded in both divisions.
1st place: $75.00
2nd place: $50.00
3rd place: $25.00
Overall most creative design (from all entries): $100.00