APSU Sports: Austin Peay Men's Basketball

Clarksville, TN – Eastern Illinois handed Austin Peay State University its third straight loss as the Governors fell, 77-67, Saturday night in Ohio Valley Conference basketball action in Dave Aaron Arena.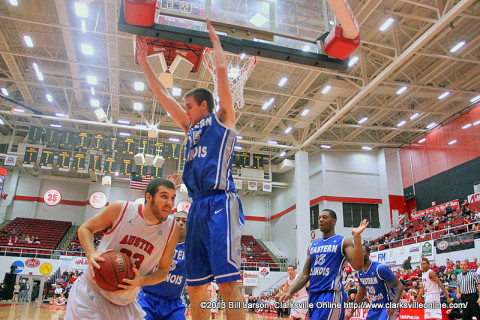 The loss dropped APSU to 5-15 overall and 1-5 in the OVC. Eastern Illinois improved to 4-16 overall and 1-6 in the OVC.
It was the one-two punch of Josh Piper and Sherman Blanford that ultimately did in the Governors. The 6-8 Piper scored 20 points-his most since the season's second game-while Blanford added a career-best 19 points to go with 10 rebounds-his first career double-double.
The Panthers built a 37-25 halftime advantage by shooting 54.2 percent, taking advantage of APSU's defense with back cuts. The Govs handled EIU better in the final half but the Govs could never get the deficit to less than eight points-that coming in the final minute.
The Governors were out-rebounded 33-21-the sixth time in six OVC games the Govs were out-rebounded-with the Panthers grabbing 16 offensive boards. As a result, EIU outscored the Govs 36-22 in the paint.
Will Triggs and Travis Betran finished with 14 points apiece-each had just one field goal in the first half.
APSU finished the night shooting 50 percent (21 of 42), but 15 turnovers was detrimental against a team that uses much of the shot clock on the offensive end.
Photo Gallery
Box Score
Eastern Illinois vs Austin Peay
1/19/13 7:35pm at Clarksville, TN (Dunn Center)
Eastern Illinois 77
Total
3-point
Rebounds
##
Player
p
fgm-fga
fgm-fga
ftm-fta
off-def
tot
pf
tp
a
to
blk
stl
min

15

BLANFORD, Sherman

f

5-10

0-0

9-10

7-3

10

5

19

6

2

1

4

29

55

PIPER, Josh

f

8-14

4-8

0-0

2-0

2

3

20

2

2

1

0

35

20

WOODS, Morris

g

3-8

0-0

3-4

2-1

3

5

9

0

2

0

1

22

21

AKERS, Austin

g

1-3

1-2

2-2

0-5

5

1

5

3

2

0

0

36

22

JONES, Taylor

g

3-6

1-4

7-8

0-0

0

0

14

2

2

0

3

35

05

HERRON, Malcolm

–

2-7

0-2

2-2

3-4

7

1

6

0

1

0

1

18

12

ANDERSON, Keenan

–

0-0

0-0

0-0

1-1

2

2

0

0

0

0

0

2

24

HARVEY, Cameron

–

1-1

0-0

0-2

0-0

0

0

2

1

0

0

0

12

31

AUSTIN, Alex

–

1-2

0-0

0-1

0-1

1

0

2

0

0

0

0

11

TM

TEAM

–

–

–

–

1-2

3

–

–

–

2

–

–

–

Totals…………..

–

24-51

6-16

23-29

16-17

33

17

77

14

13

2

9

200

47.1%

37.5%

79.3%

Team summary:
FG
3FG
FT
1st Half:

13-24

4-8

7-11

54.2%

50.0%

63.6%

2nd Half:

11-27

2-8

16-18

40.7%

25.0%

88.9%
Austin Peay 67
Total
3-point
Rebounds
##
Player
p
fgm-fga
fgm-fga
ftm-fta
off-def
tot
pf
tp
a
to
blk
stl
min

10

TRIGGS, Will

f

5-6

0-0

4-5

0-4

4

1

14

3

2

2

0

35

25

CAMPBELL, Anthony

f

3-11

2-7

1-1

2-5

7

3

9

3

1

0

0

28

05

HORTON, Chris

c

1-3

0-0

1-2

2-1

3

1

3

1

0

0

0

18

04

BETRAN, Travis

g

4-8

1-5

5-5

0-0

0

1

14

1

2

1

3

33

12

PURVIS, Jeremy

g

2-2

2-2

1-2

0-1

1

2

7

0

4

0

2

22

11

GREER, Thomas

–

0-0

0-0

0-0

0-0

0

1

0

0

1

0

0

4

15

FREEMAN, Chris

–

1-2

0-0

0-0

1-0

1

1

2

1

1

0

0

6

20

ARENTSEN, Cory

–

3-4

3-4

0-0

0-0

0

1

9

1

1

0

0

17

21

HERRING, Preston

–

1-1

0-0

0-0

0-2

2

2

2

0

0

0

1

7

22

LAWRENCE, Herdie

–

0-1

0-1

2-2

0-0

0

1

2

0

1

0

0

10

23

LYNCH, AJ

–

1-4

0-2

0-0

0-1

1

2

2

1

1

0

0

14

33

HASSE, Matt

–

0-0

0-0

3-4

1-0

1

4

3

0

0

0

2

6

TM

TEAM

–

–

–

–

0-1

1

–

–

–

1

–

–

–

Totals…………..

–

21-42

8-21

17-21

6-15

21

20

67

11

15

3

8

200

50.0%

38.1%

81.0%

Team summary:
FG
3FG
FT
1st Half:

7-18

3-8

8-11

38.9%

37.5%

72.7%

2nd Half:

14-24

5-13

9-10

58.3%

38.5%

90.0%
| | | | | |
| --- | --- | --- | --- | --- |
| Score by Periods | 1st | 2nd | Total | |
| Eastern Illinois | 37 | 40 | 77 | Record: (4-16 (1-6 OVC)) |
| Austin Peay | 25 | 42 | 67 | Record: (5-15 (1-5 OVC)) |
Officials: Rick Shoulders(R), Ford Branch Jr., Kelly Davis
Technical fouls: Eastern Illinois-None. Austin Peay-None.
Attendance: 2517
Player of the Game: Will Triggs