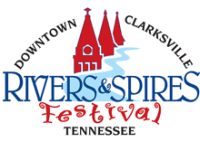 Clarksville, TN – The Rivers & Spires Festival is currently accepting applications for the Miss River Queen and Teen Pageants as well as applications for volunteers and vendors.
The 11th annual Rivers & Spires Festival will be held April 18th-20th, 2013 in Historic Downtown Clarksville. This event has five stages of entertainment with over 100 entertainers performing all three days.
From children's activities, arts & crafts, car shows, military exhibits, Brewfest, shopping and so much more this is truly an event for the whole family.
Admission to the Festival is free including all concerts and many games and activities.
Miss River Queen and Teen
The 2013 pageant will be held Saturday, April 13th, 2013 in Clement Auditorium on the campus of Austin Peay State University.  The Rivers & Spires Festival hosts this yearly beauty pageant for women 15 to 27 years old. The Miss River Queen and River Teen Pageant is a preliminary pageant to the Miss Tennessee USA and Miss Tennessee Teen USA pageant to be held in October 2013.
The winners of the 2012 pageant were Miss River Queen Tara Zolfagharbik  of Paris, TN and Miss River Teen Caitlin Campbell of Clarksville. They will both be at the 2013 Pageant to hand over the crown to the next winners.
Applications are still being accepted for the 2013 pageant and the form is due no later than March 9th, 2013. You can go online and download the complete River Queen Application packet at www.riversandspires.com. The Miss River Queen Pageant is also a great way to promote your business. If you are interested in sponsoring the pageant contact Nicole Williamson at .
Volunteers
If it were not for the hard work of the 600-plus volunteers, the Festival would not be possible! The Rivers & Spires staff appreciates all who have come out in the past and hope that you will return this year. The Festival is always looking for volunteers to help with setup, manning beverage booths, manning i.d./ticket booths and cleanup.
If you are interested in being a part of the Rivers & Spires team, please apply online at the Rivers & Spires site and make sure to mark what days you are available. There is no deadline to apply to volunteer and you will walk away with one of the coveted Festival t-shirts.
Vendors
One of the elements that makes Rivers & Spires continue to grow each year is the vendors that come out and set up booths throughout the Festival. Lining the streets is everything from art and collectables to delicious treats and activities. You need to be a part of the action! Both businesses and non-profits are encouraged to apply to be a part of the Festival and this is a great opportunity for your organization to be exposed to over 40,000 people.
Go to www.riversandspires.com to see a full description of each application and which one best suits your business.  Remember, information is being updated daily, so it's best to check back often. There is still room available, but hurry as booth space is limited and filling up fast.
Deadlines for the Applications Are
| | |
| --- | --- |
| Artz Galore | 03/29/13 |
| Non-Profit/Family Fun Zone Exhibitor | 04/04/13 |
| Commercial Exhibitor | 04/05/13 |
| Food Vendors | 04/09/13 |
| Green Zone | 04/06/13 |
| Marketplace | 04/05/13 |
| Children's' Parade | 04/12/13 |
| Quilts on the Cumberland | 04/12/13 |
Information
For more information about Rivers & Spires contact Doug Barber at or visit us at www.riversandspires.com. Become a fan on Facebook, follow us on Twitter @riversandspires and join our text club by texting 'SPIRES' to 68255.