Topic: Downtown Clarksville

Clarksville, TN – Sneak a peek with the Roxy Regional Theatre into the "Top-Secret Personal Beeswax Journal" of the outspoken and lovable Junie B. Jones!
The wildly popular children's favorite "Junie B. Jones: The Musical" opens at the Roxy Regional Theatre on Friday, January 24th, at 6:00pm. In keeping with the theatre's traditional pay-what-you-can opening night, all tickets not pre-sold at the regular price will go on sale at 5:30pm that evening for a $5.00 minimum donation.
«Read the rest of this article»
"The Vagina Monologues" at the Roxy Regional Theatre Supports the Sexual Assault Center

Clarksville, TN – Funny, outrageous, emotionally affecting and occasionally angry … Eve Ensler's wildly popular series of monologues about women and performed by women is back for the eighteenth year with the Roxy Regional Theatre's presentation of "The Vagina Monologues", January 17th – February 1st.

This year, two members of the theatre's professional company and a special guest from the community will take the stage of theotherspace, the 50-seat black-box theatre located upstairs at the Roxy, in readings of these monologues based on interviews Eve Ensler conducted with 200 women about their views on sex, relationships and violence against women.
«Read the rest of this article»

Clarksville, TN – The Customs House Museum and Cultural Center is located in historic downtown Clarksville, Tennessee. Come explore an entire city block featuring large gallery spaces filled with fine art, science and history.
Some of the events in January at the Museum are: Tennessee Women of Glass, Sher Fick: Imitation of Life, Tom Malone: Works on Paper from the Museum Collection, and Reimagined Lore: The Art of Tara Swalgren.
«Read the rest of this article»
Downtown Commons Ice Rink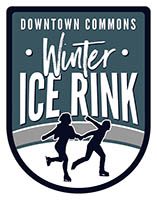 Montgomery County, TN – On January 15th, 2020, the public is invited to attend the second annual Broomball match between Montgomery County Mayor Jim Durrett and U.S. Army Fort Campbell to a backyard broomball game at 6:00pm-7:00pm at the Downtown Commons Winter Ice Rink.
Broomball is a variation of ice hockey played on ice without skates and with brooms and a ball instead of sticks and a puck. Running around in shoes on ice while trying to "sweep" a ball into a goal presents a unique challenge that includes a lot of slipping, sliding and falling.
«Read the rest of this article»

Clarksville, TN – Trinity Episcopal Church welcomes everyone to their fifth Sunday initiative, Trinity's Love in Action. Each fifth Sunday, Trinity's 10:00am service reaches out to the community by highlighting a ministry and providing a service as we work and worship either off-site or on-site.
This Sunday, December 29th, 10:00am, Trinity Episcopal will be focusing on Recovery from Addiction.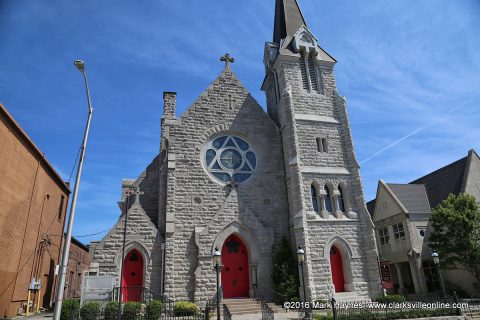 «Read the rest of this article»
Clarksville, TN – On the evening of Saturday, December 21st, 2019, the residents of Dog Hill Historic District in Downtown Clarksville will hold the Annual Illuminating Dog Hill holiday event.
The public is invited to visit the district and enjoy the candlelit luminaries which the residents of Dog Hill will have on display from 5:00pm-7:00pm. The Dog Hill Historic District includes the area of Munford Avenue, First Street, Union Street, Madison Street and Second Street.
«Read the rest of this article»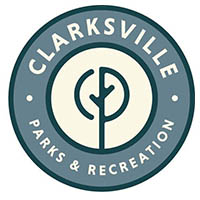 Clarksville, TN – Clarksville's 60th annual Christmas parade, hosted by the City of Clarksville and Montgomery County Government, took place Saturday, December 7th, 2019 delighting thousands as it worked its way from the Austin Peay State University campus through the streets of downtown.
Leading this year's parade, which featured about 180 entries, was the family of the late Mike Robinson. His wife Rhonda, and children Bryce, Bayleigh and Carly, were this year's grand marshals. A beloved local music legend and family man, Mike Robinson lost his long battle with cancer in August of 2019.
«Read the rest of this article»
Clarksville, TN – Downtown Commons, along with First Presbyterian Church and Trinity Episcopal Church teamed up once again to bring SpiritFest to Downtown Clarksville.
2019 marked the fifth year of the event which precedes the annual Clarksville Christmas Parade. Guests were invited to come downtown early and enjoy a variety of activities.
«Read the rest of this article»
#15/14 Austin Peay at #5/5 Montana State
Friday, December 13th, 2019 | 7:00pm CT
Bozeman, MT | Bobcat Stadium | TV: ESPN3

Clarksville, TN – Game 14. Elite Eight. Quarterfinalists. All firsts that describe the Austin Peay State University (APSU) football team as it continues a run that outsiders have deemed indescribable.
Nonetheless, the Governors travel to No. 5 seed Montana State for a 7:00pm (CT), Friday matchup in the FCS Playoffs with the winner earning a ticket to the national semifinals.
«Read the rest of this article»
Clarksville, TN – Clarksville Transit System (CTS) has reopened its downtown Transit Center on Legion Street after an eight-month renovation project was completed last week.
Paul Nelson, Clarksville Transit System Director, said CTS will host a reopening celebration from 10:00am to 2:00pm on Friday, December 20th, 2019. CTS officials will be on hand to greet the public, offer snacks and soft drinks and CTS merchandise.
«Read the rest of this article»