Montgomery County, TN – Aladdin Lighting Technologies, an American-owned and operated company that has thrived in lighting for more than 100 years, is the latest business to earn Clarksville-Montgomery County Green Certification.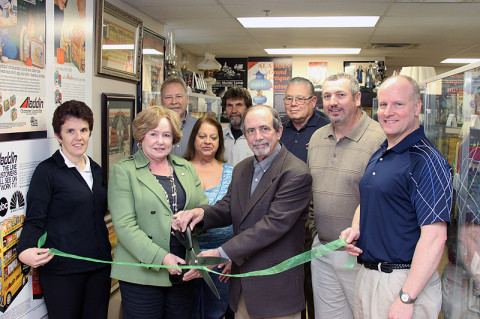 A Green Ribbon Cutting Ceremony was held on Tuesday, February 26th, to celebrate their initiatives and completion of the program.
Aladdin Lighting Technologies, located in the Clarksville-Montgomery County Industrial Park, has worked to reduce their impact on the environment while saving resources. The first step Aladdin took towards their Green Certification was to implement a recycling program.
President and CEO Len Stolz said, "We started with recycling because it was the obvious change to make."
A few more of their conservation efforts include retrofitting to more efficient lighting as old bulbs went out; setting thermostats back in the evenings and weekends, eliminating the use of Styrofoam and paper towels, encouraging employees to turn out the lights in unused rooms and keeping lights out in unused areas of their warehouse.
During the ribbon cutting Stolz proudly showed display cases filled with antique Aladdin lamps, lunchboxes and thermoses from their museum which they have plans to build on site for the public to enjoy.
Montgomery County Mayor Carolyn Bowers congratulated Stolz and his staff for their support to reduce their impact on the environment at work and at home.
"Thank you for what you are doing to make a difference in the community," said Bowers. Stolz explained, "At one time being "green" meant doing something kind for the environment but in these times it has more to do with saving resources, including money."
For information about Aladdin Lighting Technologies visit www.aladdinltg.com .
For additional information about the CMC Green Certification Program contact Michelle Newell at manewell@mcgtn.net or 931.245.1867.