APSU Sports: Austin Peay Women's Softball

Louisville, KY – Austin Peay State University's softball team saw its five-game winning streak snapped Saturday, in day two of the University of Louisville's Red and Black Classic, as the Lady Govs fell to Illinois State 8-2 and No. 14 Louisville 12-0.
In both game, the Lady Govs (6-5) struggled to keep their opponents off the board early and could never get enough offense going to reel them back in.
In the opener against Illinois State (12-11), the Lady Govs gave up three first-inning runs on a base-loaded double to Elizabeth Kay.
Illinois State would add a run in the top of the third on a home run to right field by Laura Canopy to make it 4-0.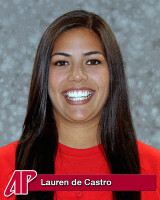 Austin Peay would score its first run of the game in the bottom of the fourth, with Laurel Burroughs drawing a walk to open the inning, and after moving into scoring position at second base on an infield out, scored when a Kayla Davidson groundball was thrown away by the Redbirds shortstop.
Illinois State would get the run back in the sixth inning on a sacrifice fly by Shelby Music, while Austin Peay's final run came in the bottom of the inning on back-to-back doubles by Lauren de Castro and Davidson.
Illinois State would add three insurance runs in the seventh for the 8-2 final.
In the nightcap versus No. 14 ranked Louisville (19-3), it only took two pitches for Austin Peay to fall behind.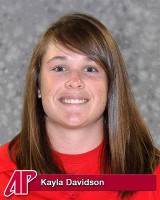 Cardinals Katie Keller – who just came off being named the Louisville Slugger/National Fastpitch Coaches Association Division I Player of the Week – smacked a 0-1 de Castro off-speed pitch off the scoreboard in left field for her sixth round-tripper of the season and a 1-0 lead.
Keller went 4-for-4 with the home run and to doubles, while driving in five.
Louisville would score a second run in the first as well as two more runs in the second and one in the third to take a 5-0 advantage.
Austin Peay did have a chance to do some damage themselves in the second inning – getting the bases loaded with only one out.
A single by de Castro got thing started, followed and out later, by a walk to Mel Pavel and Shelby Norton being hit by a pitch.
But Abby Guest grounded back to the pitcher, who started a 1-2-3 double play to get out of the inning.
The Cardinals would blow the game open in the fourth inning with seven runs on eight hits for the 12-0 final margin.
Austin Peay will conclude play in the classic Sunday morning, 8:30am, with a game versus Miami (Ohio).
Box Score
Game #1
Illinois State 8, Austin Peay 2
Illinois State   301 001 3—8 13 2
Austin Peay    000 101 0—2 5 2
Taylor Baxter, Sophia Perez (6) and Elizabeth Kay; Morgan Brewer, Taylor Mills (7) and Mel Pavel
WP-Baxter (7-3); LP-Brewer (2-3); SV-Perez (1)
HR: IS-Laura Canopy (3)
Game #2
#14 Louisville 12, Austin Peay 0
Austin Peay    000 00—0 1 1
Louisville        221 7x—12 16 0
Lauren de Castro, Morgan Brewer (4), Taylor Mills (4) and Mel Pavel; Rachel LeCoq, Caralisaa Connell (3) and Maggie Ruckenbrod
WP-Connell (11-2); LP-de Castro (4-2)
HR: UL-Katie Keller (6)