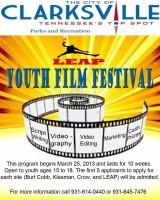 Clarksville, TN – The City of Clarksville's Department of Parks and Recreation along with the LEAP Organization have partnered to host a Youth Film Festival. The goal of the festival is to increase the self-esteem and overall sense of self-worth of the participants through a 10 week Film Production Course.
During the initial 8 weeks, students  will learn Storytelling and Scriptwriting, Videography and Directing,  Editing (Sound and Film), and  Marketing. For the final 2 weeks, each site will develop a short film at least 5 minutes in length to be entered into the festival.
The films will address problems with:  Family Members,  Fitting in/Peer Pressure, Self Esteem/Body image, Gangs/Bullying, Depression/Loss, School Failure, Teenage Pregnancy, and The Future
Each participant will develop a portfolio containing the following assignments:
An original 5 page script
A three minute clip they shot and directed
A film clip containing 5 edits
A marketing plan for their movie with poster
Once participants have completed all of the modules and assignments they will be eligible to submit a movie to the Youth Film Festival for a chance to win $500.00.
This program is free of charge and begins March 25th, 2013. It is open to youth on a first come first serve basis with a 5 participant maximum at each site (LEAP Office, Burt Cobb Community Center, Kleeman Community Center, and Crow Community Center). Deadline to register is March 20th.
Applications can be downloaded from http://leaporg.net/programs/film-festival-program/ and faxed to 931.274.0929 or delivered to any of the Parks & Recreation Community Centers.
For more  information call 931.614.0440 or 931.645.7476