Clarksville, TN – Several law enforcement agencies were present in Clarksville as the Governor's Highway Safety Office announced the kick off of a series of saturation patrols and sobriety check points in Clarksville-Montgomery County and all across the State of Tennessee during the St Patrick's day weekend.
Law enforcement agencies will be out in a concentrated effort to ensure your safety over the holiday weekend.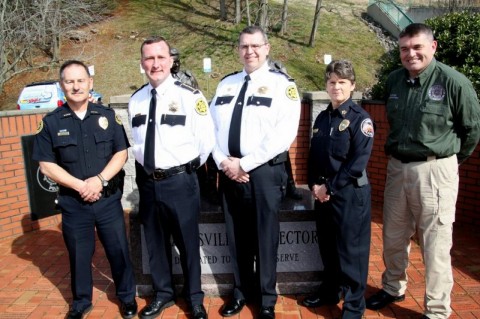 There has been a 20 percent decrease in motorist fatalities this year compared to same time frame last year. Unfortunately, 60 percent of those chose not to wear seatbelts. The lives lost can't be brought back, but hopefully through enforcement efforts and educating drivers, we can save lives and continue the downward trend of fatalities on Tennessee roadways.
This St Patrick Day's weekend is an opportunity for drivers save lives and reduce injuries. Prepare for the weekend and have a designated driver, wear your seatbelt, and drive responsibly without distractions.
There will be sobriety checkpoints and saturation patrols on the roadways throughout Clarksville-Montgomery County and across the state of Tennessee over the St Patrick's day weekend.
Enjoy your weekend, but do it responsibly.
Photo Gallery