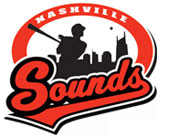 Albuquerque, NM – The Nashville Sounds suffered a rain-shortened one-run loss to Albuquerque on Monday evening, falling 6-5 in five innings at Isotopes Park in the opener of a three-game series.
The defeat, Nashville's fourth in a row, was the Sounds' league-leading 18th one-run loss of the year.
The Sounds swatted a trio of home runs in the top of the third inning against Jonathan Sanchez to take an early 4-0 lead.
After pitcher Jimmy Nelson led off by drawing a four-pitch walk from his counterpart before scoring on Hainley Statia's one-out homer to left, the utilityman's third longball in the last four games following a stretch of 600+ homerless at-bats.
Caleb Gindl (2-for-3) went back-to-back with Statia by drilling a solo shot to left, his 10th big fly of the year and Nashville's fourth set of consecutive roundtrippers.
Later in the frame, Josh Prince (2-for-2) got into the act by mashing a 400-foot solo shot to left-center. The outfielder's eighth homer of the year upped the Sounds' advantage to 4-0.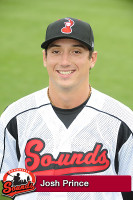 Albuquerque responded immediately against Nelson, batting around and plating five runs in the home half of the third to pull ahead, 5-4.
With the bases jammed following two singles and walk, Nelson hit Ian Stewart with a pitch to force home John Baker. The right-hander then issued a run-scoring walk to Alex Castellanos to reduce the lead to 4-2. Nick Buss followed with a game-tying bloop single to center that evened the score at 4-4. Brian Barden followed with a grounder that plated Castellanos with the go-ahead run.
Scooter Gennett extended his season-best hitting streak to 13 games with a leadoff double in the fifth. He is batting .388 (19-for-49) since rejoining the Sounds from the Milwaukee Brewers. After advancing to third on a groundout, he tied the game at 5-5 when he scored on Caleb Gindl's RBI single to right that came on a 3-2 offering from Sanchez.
For the second time on the night, Albuquerque answered a Sounds rally with one of its own in the bottom of an inning, pulling back ahead with a run against Nelson in the home half of the sixth.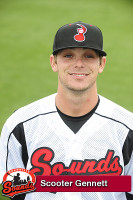 With runners on the corners with one out following a pair of walks followed by a flyout, Buss shot an RBI single to right to give the 'Topes a 6-5 lead.
Immediately following the conclusion of the fifth inning, which was played in the rain, the tarp was placed onto the field and the game was called following a 58-minute delay.
Nelson (1-3) took the loss for the Sounds after allowing six runs in his five innings of work. He was credited with a complete game in the rain-shortened affair. Sanchez (2-0) got the win for Albuquerque.
The teams continue the series with another 8:05pm CT contest on Tuesday. Left-hander Chris Narveson (2-4, 5.35), who twirled eight scoreless frames in his last outing, will man the bump for the Sounds to face Albuquerque right-hander Matt Palmer (4-3, 4.10).
Box Score
Albuquerque Isotopes (51-41) 6, Nashville Sounds (32-60) 5
July 8th, 2013
1
2
3
4
5
6
7
8
9
R
H
E
Nashville Sounds
0
0
4
0
1
x
x
x
x
5
6
0
Albuquerque Isotopes
0
0
5
0
1
x
x
x
x
6
5
0
BATTING
2B: Gennett (10, Sanchez, J).
HR: Statia (3, 3rd inning off Sanchez, J, 1 on, 1 out), Gindl (10, 3rd inning off Sanchez, J, 0 on, 1 out), Prince (8, 3rd inning off Sanchez, J, 0 on, 2 out).
TB: Prince 5; Gennett 2; Statia 4; Gindl 5.
RBI: Statia 2 (17), Gindl 2 (45), Prince (33).
2-out RBI: Prince.
Runners left in scoring position, 2 out: Chavez, O; Lalli.
SAC: Gennett.
Team RISP: 2-for-5.
Team LOB: 4.BASERUNNING
SB: Prince 2 (12, 2nd base off Sanchez, J/Baker, Jo, 3rd base off Sanchez, J/Baker, Jo).FIELDING
Outfield assists: Garner (Buss at 2nd base).
BATTING
TB: Herrera, E; Buss 2; Gordon, D; Baker, Jo.
RBI: Stewart, I (21), Castellanos, A (39), Buss 3 (65), Barden (33).
Runners left in scoring position, 2 out: Castellanos, A; Barden.
Team RISP: 3-for-8.
Team LOB: 3.BASERUNNING
SB: Herrera, E (13, 2nd base off Nelson/Lalli), Gordon, D (32, 2nd base off Nelson/Lalli).
CS: Baker, Jo (1, 2nd base by Nelson/Lalli).
Nashville Sounds
Player
IP
H
R
ER
BB
SO
HR
ERA
Jimmy Nelson (L, 1-3)
5.0
5
6
6
5
3
0
3.62
Totals
5.0
5
6
6
5
3
0
4.48
Albuquerque Isotopes
Player
IP
H
R
ER
BB
SO
HR
ERA
Jonathan Sanchez (W, 2-0)
5.0
6
5
5
3
4
3
6.60
Totals
5.0
6
5
5
3
4
3
4.20
WP: Nelson.
HBP: Stewart, I (by Nelson).
Pitches-strikes: Nelson 90-47, Sanchez, J 91-56.
Groundouts-flyouts: Nelson 7-3, Sanchez, J 9-1.
Batters faced: Nelson 24, Sanchez, J 24.
Umpires: HP: Chris Segal. 1B: Kolin Kline. 3B: Jordan Ferrell.
Weather: 91 degrees, cloudy.
Wind: 28 mph, Out to LF.
T: 1:51 (:58 delay).
Att: 7,159.
Venue: Isotopes Park.
July 8, 2013