Clarksville, TN – After failing to play a Southeastern Conference opponent in its first 76 seasons of football existence, Austin Peay will play its second in as many weeks when the Governors travel down the road to Nashville, 6:30pm, Saturday, to play Vanderbilt in Vanderbilt Stadium.
The Governors come in after a 45-0 defeat at Tennessee to open the 2013 season. Vanderbilt, meanwhile, is coming off an excruciating 49-45 home loss to Ole Miss. With the game being played a week ago Thursday, one good thing is the Commodores have had a few extra days to get over the disappointment.
This is a Vandy team, however, that posted a 9-4 record—the most wins since World War I—in 2012 and are coming off a back-to-back bowl appearances, including a drubbing of Tennessee last season.
"Tennessee and Vanderbilt are similar in some ways," APSU coach Kirby Cannon said. "Offensively, though, they have evolved into a more two-back, H-back running team. That's different than Tennessee. They throw it just as well as Tennessee, but a more spectacular player in (Jordan) Matthews on the outside who is going to be a match-up issue for everyone they play.
"Defensively, they want to control the run up front. They are conservative in the secondary and don;'t blitz a whole bunch. Neither did Tennessee. There is more similarity on defense than on offense."
After playing in front of 97,000 people a week ago, the Vanderbilt crowd (Vanderbilt Stadium capacity is 40,350) should not be an issue as far as nerves and communication issues are concerned.
"The Tennessee environment was incredible and served to focus us more than distract us," Cannon said. "It is also Vanderbilt, which is a very good football team. Playing in front of 95,000 was something but playing in front of 45,000 is pretty good. I think our players are enjoying playing at that level."
After getting off to a slow start offensively, the Governors offense settled down with a couple of impressive double-digit play drives, one resulting in a missed field goal and a second that ended with an interception. Head coach Kirby Cannon his team will display expected improvement in Week 2.
"I think our practices this week have been good," Cannon said. "I think our improvement will be seen in the game itself. You hope some of the mistakes you made because of a lack of focus or inexperience in playing those mistakes will go away.
"I think some our areas stood up well in the first game, but you want to see improvement in those areas as well. I don't think Ben Campbell can have a better day (45 yards per punt) than he did. Our punt protection was really solid. Special teams generally were very good, except for the long return at the start of the second half. And that had to do with more on where we kicked it from (20-yard line).
"I think we will be an improved football team and I think we will be an improved staff as well."
Worth Noting
After failing to play a Southeastern Conference team in its first 76 years of college football, Austin Peay will play an SEC team for a second time in as many weeks. After losing to Tennessee, 45-0, Saturday, the Governors now face Vanderbilt this week.
Austin Peay will play a school-record three FBS programs in 2013, including opening the season against a pair of SEC and BCS schools in Tennessee (August 31st) and Vanderbilt (September 7th). The Govs also will play at Ohio (September 21st).
This will be the third straight season Austin Peay has opened with consecutive FBS opponents. In 2011,
APSU played Cincinnati and Memphis in the opening two weeks. Last season, the Govs opened with Western Kentucky and Virginia Tech in the season's initial two weeks.
This will be the 18th time Austin Peay has played an FBS team in school history. APSU is 1-16 in those matchups, the lone victory coming against Kansas State, 26-22, in 1987. Arkansas State was the Governors' first FBS team in 1980 while Cincinnai is the FBS team (five times) they have played the most.
The Governors open the season playing four straight non-conference road games–Tennessee (August 31st), Vanderbilt (September 7th), Chattanooga (September 14th) and Ohio (September 21st). After a week off, the Govs then will open Ohio Valley Conference play on the road at Eastern Kentucky, October 5th. The Govs' first home game will be October 12th against Eastern Illinois.
This is Austin Peay's 77th season of college football, including nine non-scholarship seasons (1997-2005).
The Governors enter the contest with 17 straight road losses. Their last road victory came against Tennessee State, a 26-23 verdict, September 18th, 2010.
Austin Peay has enjoyed only 18 winning seasons in 76 years of football and two winning seasons since the turn of the century–a 7-5 mark in 2002 as a non-scholarship program and a 7-4 record in 2007 in Rick Christophel's first season.
APSU saw its scoring streak end at 84 games in the 45-0 loss to Tennessee. It was the first time the Govs have been shutout since returning to scholarship football
Offensive Notes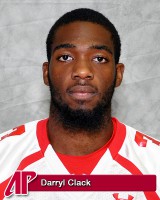 Austin Peay led the OVC in fewest sacks allowed with just 10 in 11 games in 2012. In fact, that number was two better than Jacksonville State and UT Martin. However, in the season opener against Tennessee, the Governors permitted a pair of sacks.
Austin Peay Player of the Game junior Darryl Clack made three catches for a career high 80 yards against Tennessee, including a 35 yarder.
After starting the contest 0-for-3 with an interception, junior quarterback Andrew Spivey completed eight consecutive passes, four coming in a drive that put the Govs inside the red zone for the first time in the second quarter. He finished the night 11 of 22 for 94 yards.
Although he threw just four passes, completing two for 38 yards, redshirt sophomore Jacob Sexton led the Govs on a 14-play, 72-yard drive that ended in an interception at the Tennessee 16. Sexton finished the night second on the team in rushing with 25 yards on seven attempts.
Although he didn't start, fifth-year senior Tim Phillips led the Govs in rushing with 38 yards on eight attempts against Tennessee. Bothered by an injury, Phillips' availability was a game-time decision.
Defensive Notes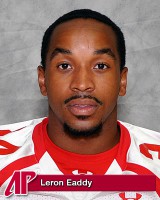 Playing in his first game as a Governor, fifth-year senior Leron Eaddy, a transfer from Central Michigan, tied with fellow safety Johnathan Shuler for the Governors' tackles lead with seven against Tennessee. Eaddy joined his former position coach, Kirby Cannon, at APSU after gaining his undegraduate degree in August.
Making his first career start at linebacker, senior Josh Owens finished the Tennessee game with six tackles.
Playing his first college game, walk-on defensive end Nii Lartey collected a pair of tackles for loss, totalling 12 yards against Tennessee. Lartey is a former prep teammate of running back of Ean Pemberton at Grayson High School in Loganville, GA.
Senior linebacker Craig Salley was credited with the Govs' first sack of 2013, that coming early in the fourth quarter of the game at Tennessee.
Special Teams Notes
For a third straight season Ben Campbell is the Austin Peay punter. The Johnson City, TN native displayed much improvement in 2012, averaging 38.7 yards per punt–more than a yard better than the previous season. He had 20 punts downed inside the 20-yard line with 17 boots being fair caught. In the season opener against Tennessee, Campbell averaged 45.0 yards per punt, including a 51 yarder.
Junior Walter Spears and freshman Chase Dunlap conducted a fall battle for the placekicking job. Spears missed (31 yards) his long field-goal attempt versus Tennessee.
Redshirt freshman Evan Toby, of Maryville, serves as APSU's kickoff specialist. Toby came to APSU a year ago from prep powerhouse Maryville High School.
Senior Michael Dunphy serve as APSU's long snapper for a second straight season. A Long Beach, CA, native via Franklin, Tennessee, Dunphy will be backed up by freshman Reed Montgomery, from Bardstown, KY.
Governors Radio Network
WVRY 105.1 FM serves as the Governors Sports Network in 2013-14. David Loos, who also handles play-by-play for Lady Govs basketball and color for the Govs, is in his 12th season as football play-by-play voice while Van Stokes, a veteran broadcaster with a diverse background adds the color. Govs Game Day will begin one hour before game time followed by the pre-game show 30 minutes prior to kickoff each week.
Television: CSS
The APSU-Vanderbilt game, 6:30pm, Saturday, will be telecast live by CSS, the 24-hour sports channel that covers 12 southern states. It also will be available on ESPN3.
Play-by-play: Matt Stewart
Analyst: Chris Doering
Sideline reporter: Angela Mallen
Producer: Anthony Holleman
OVC Digital Network
All Ohio Valley Conference football games plus home non-conference contests will be televised in HD by the new OVC Digital Network. The OVC is excited to offer LIVE and on-demand streaming video and audio straight to your computer, tablet or smart phone. APSU's webcast is produced by APSU's Mass Communications department.
Govs Social Media
All things related to Austin Peay Athletics can be found on Twitter @LetsGoPeay and through Facebook at www.facebook.com/apsugovs. [4] For all your APSU athletics needs, be sure to visit www.LetsGoPeay.com [5]