Cookeville, TN – Junior Liz Landon led a balanced offensive attack as Austin Peay State University's volleyball team won a four-set (26-24, 19-25, 27-25, 25-21) Ohio Valley Conference decision against Tennessee Tech, Saturday, at the Eblen Center.
Landon continued her recent string of strong performances, finishing with a team-best 13 kills less than 12 hours after recording a career-high 14 kills at Jacksonville State. She also proved big on the defensive side, assisting on six of Austin Peay's 10 blocks.
Austin Peay (4-13, 1-1 OVC) got off to a strong start, grabbing a 16-10 lead in the opening set. However, the Lady Govs squandered the early lead as Tennessee Tech rallied to tie the set 24-24. Austin Peay stopped the TTU run with junior Jada Stotts' kill and senior Lauren Henderson ended the set with a kill for the 26-24 victory.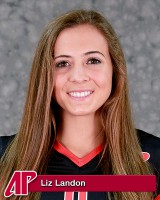 Tennessee Tech (4-8. 0-2 OVC) built off the momentum it used to tie the first set and controlled the second set wire-to-wire. The Golden Eagles broke out to a 10-5 lead and closed the set with a 6-2 run en route to the 25-19 victory.
The third set was a back-and-forth battle with 11 ties and four lead changes in the frame. Tennessee Tech strung together three straight points to build the first multi-point lead for either team, 16-13, and held a 23-19 advantage late in the set. Austin Peay battled back using a 3-0 run that included a pair of Landon kills to cut the deficit to 23-22.
Tennessee Tech ended the Austin Peay burst and got to set point thanks to a Cody Dodd kill. APSU fended off that set point with another 3-0 run to get to its own set point at 25-24. After an exchange of points, senior Calyn Hull got the Lady Govs to set point again and the Lady Govs capitalized with a block by Landon and sophomore Aubrey Marsellis to win a 27-25 decision.
Tennessee Tech broke out to a 5-1 lead in the fourth set only to watch Austin Peay rally to tie the set at 9-9 and take an 11-9 lead. That 5-0 lead-taking burst proved decisive as the Lady Govs managed that lead to a 25-21 match-clinching victory.
"It's a win," said Lady Govs head coach Taylor Mott. "We won today through sheer determination and grit. It wasn't pretty to watch and the statistics bear that out."
Landon was joined by teammate senior Hillary Plybon for a dominant front-row pairing. Plybon finished with nine kills and no errors for an impressive .643 attack percentage. She also had a hand in three of APSU's blocks.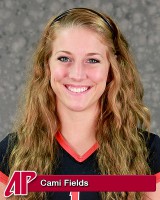 Stotts finished with 11 kills in her second outing back from injury. She again suffered from an inconsistent outing, recording 10 attack errors in the match. Still junior setter Cami Fields was able to distribute the ball well with five players recording eight or more kills despite Austin Peay posting just 52 team kills.
"Liz and Hillary were awesome offensively," said Mott. "Together they got us through a tough third set and Hillary carried us in the fourth set. I have to give Cami a lot of credit, she made critical adjustments throughout the match."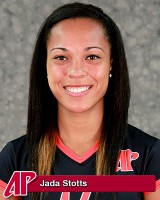 Tennessee Tech's Natalie Penrod led all hitters with 17 kills. Ellen Conti chipped in 16 kills to help lead the Golden Eagles to a 63-kill outing. TTU could not overcome a sub-par outing in the service game, committing 10 service errors while allowing six APSU service aces.
After a 17-match season-opening road trip, Austin Peay opens its home schedule with a 7:00pm, Tuesday contest against Murray State. The Lady Govs will play the entirety of their nine-match home slate in a 36-day span beginning with Tuesday's contest.
Box Score
Austin Peay vs Tennessee Tech
(September 28th, 2013 at Cookeville, TN)
Austin Peay
ATTACK
SET
SERVE
SRV
DEF
BLOCK
GEN
##
Player
SP
K
E
TA
PCT
A
SA
SE
RE
DIG
BS
BA
BE
BHE
Points

1

FIELDS, Cami

4

1

0

4

.250

45

2

0

0

6

0

1

1

0

3.5

2

HULL, Calyn

4

8

5

30

.100

0

0

0

1

0

0

3

0

0

9.5

8

LANDON, Liz

4

13

2

30

.367

0

0

1

0

3

0

6

0

0

16.0

12

HENDERSON, Lauren

2

2

1

9

.111

0

0

1

1

2

0

1

0

0

2.5

13

LITCHFIELD, Syd

4

0

0

1

.000

0

1

0

2

8

0

0

0

0

1.0

14

STOTTS, Jada

4

11

10

45

.022

0

1

2

0

19

0

2

0

0

13.0

3

ADAMS, April

4

0

0

0

.000

1

0

0

1

11

0

0

0

0

0.0

4

EBRIGHT, Sammie

4

8

5

24

.125

0

0

0

0

2

0

3

0

0

9.5

5

BALES, Lizzy

4

0

0

0

.000

0

1

0

0

8

0

0

0

0

1.0

7

MARSELLIS, Aubrey

2

0

0

0

.000

0

0

0

0

0

0

1

0

0

0.5

15

PLYBON, Hillary

2

9

0

14

.643

0

1

0

0

1

0

3

0

0

11.5

Totals

4

52

23

157

.185

46

6

4

5

60

0

20

1

0

68.0

TOTAL TEAM BLOCKS: 10.0
TEAM ATTACK BY SET
Set
K
E
TA
Pct
Sideout
Pct

1

16

8

36

.222

14-25

56%

2

8

6

42

.048

14-25

56%

3

11

5

41

.146

16-26

61%

4

17

4

38

.342

15-21

71%

59-97

60%

SET SCORES
1
2
3
4
TEAM RECORDS

Austin Peay

(3)

26

18

27

25

4-13, 1-1

Tennessee Tech

(1)

24

26

25

21

4-8, 0-2
Tennessee Tech
ATTACK
SET
SERVE
SRV
DEF
BLOCK
GEN
##
Player
SP
K
E
TA
PCT
A
SA
SE
RE
DIG
BS
BA
BE
BHE
Points

3

PENROD, Natalie

4

17

8

49

.184

1

1

1

2

12

0

1

0

0

18.5

5

CONTI, Ellen

4

16

4

42

.286

1

0

0

3

10

0

0

0

0

16.0

6

HANCOCK, Ashleigh

4

2

1

6

.167

53

1

2

0

14

0

3

0

2

4.5

8

KEYES, Madison

4

9

3

17

.353

0

0

0

0

2

0

3

1

0

10.5

17

ROBERTSON, Elise

4

8

2

17

.353

1

0

0

1

0

1

2

0

0

10.0

29

DODD, Cody

4

11

5

28

.214

1

2

3

0

6

0

3

0

0

14.5

2

SMITH, Courtney

4

0

0

1

.000

4

1

2

0

12

0

0

0

0

1.0

12

SILE, Irem

2

0

0

0

.000

0

0

1

0

0

0

0

0

0

0.0

14

MACI, Christine

2

0

0

0

.000

0

0

0

0

0

0

0

0

0

0.0

24

WADE, Kennedy

4

0

0

0

.000

1

0

1

0

13

0

0

0

0

0.0

25

MAY, Allison

2

0

0

0

.000

0

0

0

0

0

0

0

0

0

0.0

Totals

4

63

23

160

.250

62

5

10

6

69

1

12

1

2

75.0

TOTAL TEAM BLOCKS: 7.0
TEAM ATTACK BY SET
Set
K
E
TA
Pct
Sideout
Pct

1

11

5

27

.222

13-25

51%

2

17

5

39

.308

15-19

78%

3

18

9

49

.184

15-26

57%

4

17

4

45

.289

15-25

60%

58-95

61%

Site: Cookeville, Tenn. (Eblen Center)
Date: Sep 28, 2013 Attend: 581 Time: 1:50
Referees: Kim Wilkerson, Marie D. Crowe


| | | | | | |
| --- | --- | --- | --- | --- | --- |
| | 1 | 2 | 3 | 4 | Total |
| Tie scores | 2 | 2 | 11 | 1 | 16 |
| Lead changes | 0 | 0 | 4 | 1 | 5 |