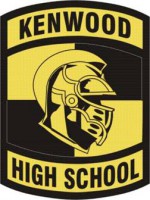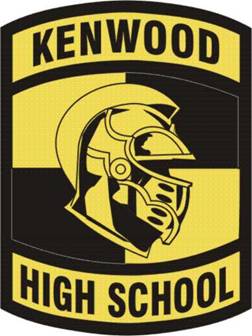 Clarksville, TN – There wasn't much celebration on the Kenwood High School sidelines or in the stands, February 4th, despite the Knights wrapping up the District 10-AAA regular-season title, with starting post player Jimario Rivers suffering a right ankle injury in the waning seconds of a 57-40 victory over Rossview High School.
Rivers had been a catalyst on both ends of the court for the Knights (20-5, 11-2 District 10-AAA), as he led Kenwood with 22 points and 17 rebounds, but as he was helping to bring the ball up the court in the final 10 seconds of the game he got tangled up with a couple of Rossview players and fell out of bound just short of midcourt.
Rivers, who normally bounces right back up from landings like that didn't this time, as he lay on his side and held his right ankle in obvious pain.
Kenwood coaches and trainers would help Rivers over to their sideline, but he wasn't able to put any weight at all on the ankle.
Even after the game, with his shoe off and a bag of ice wrapped onto the ankle, he wasn't putting weight on the leg.
As for the game, Kenwood led most of the night, but wasn't able to pull away from the Hawks (8-11, 7-6 District 10-AAA) until the final quarter.
The Knights led by nine, 36-27, heading into the final quarter, with the two teams trading 3s to open up the period.
Kenwood then got back-to-back buckets from Rivers and Matthew Norl to build its biggest lead of the game, at 13 points 43-30 with 4:45 left.
Rossview would cut the deficit down to 12 on a couple of occasions – the last come at 51-39 following a bucket by Donterius Peacher with 55 seconds left.
Peacher led Rossview with 12 points.
In the first half, the game was tied three times in the first 4:17, the last at 6-6, but a 7-0 run by Kenwood to close out the opening quarter gave the Knights a 13-6 advantage after the first eight minutes of play.
The Knights would carry that momentum into the second quarter building the lead out to nine points, 19-10, midway through the period, but Rossview got six straight points from Julian Thompson-Clay to get back to within three points, with 1:53 left before intermission.
But that would be as close as the Hawks would get in the first half, with Kenwood closing out the half with a 6-0 run of their own to head into intermission up, 25-16.
The third quarter would see both teams score 11 points, with Kenwood never leading by more than 11 points and Rossview never getting any closer than six in the period.
Both teams wrap-up district play on February 7th, with Rossview traveling to West Creek and Kenwood making the trek over to Northeast High School. Both games are 7:30pm starts.
Box Score
Kenwood 57, Rossview 40
| | | | | | |
| --- | --- | --- | --- | --- | --- |
| | 1 | 2 | 3 | 4 | Final |
| Rossview Hawks | 6 | 10 | 11 | 13 | 40 |
| Kenwood Knights | 13 | 12 | 11 | 21 | 57 |
Rossview
Javon Vaughn 8, Cannon Campbell 5, Donterius Peacher 12, David Ross 3, Luis Amnesty 2, Julian Thompson-Clay 10.Team totals 18 1-4 40.
Kenwood
Matthew Norl 2, Jimario Rivers 22, Daniel Norl 15, Kenya Mosley 5, Legree Hairston 5, Keith Dowlen 8. Team totals 21 12-15 57.
3-point field goals: Rossview 3 (Vaughn 2, Ross 1), Kenwood 3 (Rivers 1, Mosley 1, Hairston 1).
Records: Rossview 8-11, 7-6 District 10-AAA; Kenwood 20-5, 11-2 District 10-AAA.