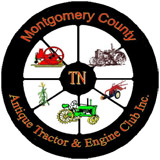 Clarksville, TN – On September 26th-27th, 2014, the Montgomery County Antique Tractor and Engine Club will hold the 14th Annual Montgomery County Antique Tractor and Engine Show at the 4-H Club Grounds. Admission to the event is free.
Although open to the general public, Friday, September 26th, is designated as "Kid's Day." Teachers (and parents) bring children from local and surrounding county and private schools to learn about life on the farm as it was many years ago.
There will be a display of many antique tractors and engines. Live demonstrations teach attendees about farming and the equipment farmers used long ago…silage chopping, stationary hay bailing, wheat thrashing, blacksmithing, etc.
Hands-on exhibits are a favorite…wringer-type washing machines, hand water pumps, corn shelling and other equipment.
Demonstrations and exhibits continue for the general public on Saturday, September 27th, with a Kiddie Pedal Tractor pull and other fun filled activities for families. Gates open both days at 9:00am.
This year's event is dedicated to the memory of John Bartee.
Mr. Bartee was the University of Tennessee Ag-Extension Director for Montgomery County for more than 20 years.
He worked for decades on Tennessee 4-H projects.
Do you have an antique tractor? Any make and model antique tractor is welcome to participate.
The 4-H Club Grounds located at 1921 Rossview Road, in Clarksville, TN.
For more information contact Ronnie Nicholson at 931.237.6059 or Raymond Bagwell at 931.320.0134.
Vendors are also welcome and may contact Anne Staats at 931.503.0501, for more information.
Come join the fun!