Clarksville, TN – On Tuesday, February 25th, 2014 at 10:00am, the Clarksville Police Department brought together several Officers, a patrol vehicle, and two motorcycles for a picture.
The CPD invited Fire Fighters, from the Clarksville Fire Department, and one of their Fire Trucks to be included in this picture.
They all met in front of Police Headquarters to wish, 6 year old, Tyler Seddon a Happy Birthday, by sending this picture to him.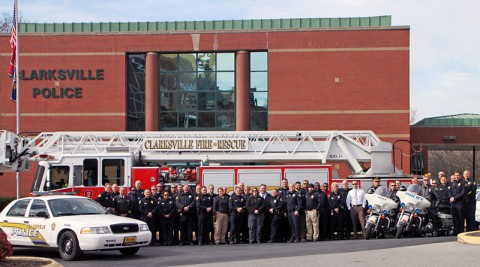 Tyler has been diagnosed with leukemia for the second time and all he requested was that Police Officers and Fire Fighters send him birthday cards for his 7th birthday, which is March 6th.
Detective Candace Rundle was responsible for this idea. She found Tyler's story on PoliceOne.com News and suggested we do something even better than birthday cards.
The CPD is sending a package with the group picture that says, "Happy Birthday Tyler" on the top and, "From the Clarksville Police Department and Clarksville Fire Rescue" on the bottom.
Along with the picture, the CPD is sending a Chief's Coin, a CPD Patch, and other assorted Police items that Detective Rundle wanted to include. The Clarksville Fire Department is sending a package with assorted Fire Department items to Tyler as well.
Both the Police Department and the Fire Department were quick to respond to this request and we all hope Tyler has the best birthday ever!