Austin Peay Sports Information

Paducah, KY – Austin Peay State University men's tennis team fought off a challenge from sixth-seeded Eastern Illinois to advance to the 2014 Ohio Valley Conference Tournament semifinals with a 4-3 win against the Panthers, Thursday, at Heflin Tennis Center.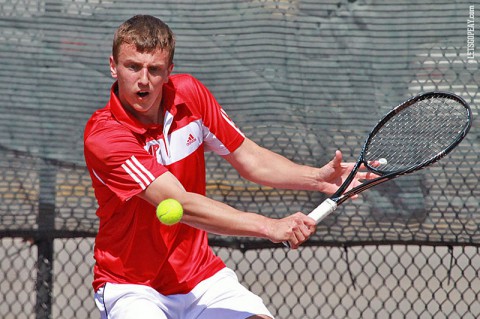 The third-seeded Govs (13-6) took all they could handle from the Panthers, taking the doubles point and the top three singles matches to earn the win.
The win moves Austin Peay into the semifinals against second-seeded Belmont, slated for a 10:00am, Friday, start at Heflin Tennis Center, weather permitting. Eastern Illinois concludes its season with a 7-10 mark.
"We'll take this one and be thankful," said head coach Ross Brown. "That was a tough one, EIU was very strong out there today."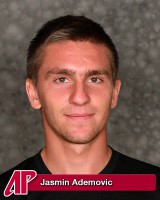 While the doubles pairing of juniors Dimitar Ristovski and Iago Seffrin was the most consistent pairing of Govs during the regular season, the other two pairs shone brightly on Thursday. Senior Jasmin Ademovic and junior Aleksas Tverijonas took the No. 1 flight (8-4) against Robert Skolik and Kevin Bauman, while the freshman pair of James Mitchell and Manuel Montenegro defeated Moritz Kandt and Grant Thompson (8-4).
Ademovic crushed Kandt 6-0, 6-0 in No. 1 singles action, while Ristovski handled Thompson (6-0, 6-2) with ease at No. 2. Both remain undefeated against the Panthers in their respective Austin Peay careers.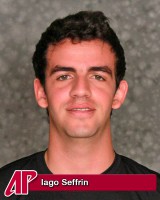 "Anytime you can wrap up a match quickly, it helps your confidence and keeps you a little more fresh," Brown said. "Right now, hopefully playing three matches in three days, we need that rest."
However, Mitchell, Seffrin and Montenegro lost the back three matches in the Austin Peay order. All three fell in straight sets, with Montenegro performing best at No. 6 in a 7-5, 6-1 loss to Rui Silva.
That put the season on Tverijonas' shoulders. As consistent a performer as has ever played for the Govs, entering with a 34-3 mark in singles play the last two seasons, the Lithuanian did not disappoint, carving out a 7-6, 6-3 win against Ryan Henderson to clinch the win for Austin Peay.
In addition to Austin Peay, Morehead State also advanced to the semifinals, defeating SIU Edwardsville 4-0. The Eagles will face top-seeded Jacksonville State, Friday morning.
"I've got a lot of confidence in these guys," Brown said. "Tomorrow will be a real test. Our freshmen came through at No. 3 doubles today and if we can win that point tomorrow, we'll be in a good situation."
Box Score
Austin Peay 4, Eastern Illinois 3
Thursday, April 17th, 2014
Paducah, KY | Larry J. Heflin Tennis Center
Singles competition
1. ADEMOVIC, Jasmin (APSU) def. KANDT, Moritz (EIUM) 6-0, 6-0
2. RISTOVSKI, Dimitar (APSU) def. THOMPSON, Grant (EIUM) 6-0, 6-2
3. TVERIJONAS, Aleksas (APSU) def. HENDERSON, Ryan (EIUM) 7-6 (7-3), 6-3
4. SKOLIK, Robert (EIUM) def. SEFFRIN, Iago (APSU) 6-1, 6-1
5. BAUMAN, Kevin (EIUM) def. MITCHELL, James (APSU) 6-1, 6-3
6. SILVA, Rui (EIUM) def. MONTENEGRO, Manuel (APSU) 7-5, 6-1
Doubles competition
1. ADEMOVIC, Jasmin/TVERIJONAS, Aleksas (APSU) def. SKOLIK, Robert/BAUMAN, Kevin (EIUM) 8-4
2. SEFFRIN, Iago/RISTOVSKI, Dimitar (APSU) vs. HENDERSON, Ryan/SILVA, Rui (EIUM) 4-7, unfinished
3. MITCHELL, James/MONTENEGRO, Manuel (APSU) def. KANDT, Moritz/THOMPSON, Grant (EIUM) 8-4
Match Notes
Eastern Illinois 7-10, 4-5 OVC
Austin Peay 13-6, 7-2 OVC
Order of finish:
Doubles 1, 2
Singles 1, 2, 5, 4, 6, 3
Official: Larry Sloan