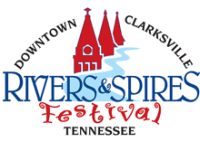 Clarksville, TN – Clarksville's Rivers and Spires has added an arm wrestling tournament to this year's festival. The tournament will be held in the Military Appreciation Area.
There are cash prizes and awards up for grabs and anyone can sign up. Registration will be Friday April 25th, 2014 from 5:00pm-10:00pm and Saturday April 26th, 2014 from 10:00am until noon at the Military Appreciation Zone.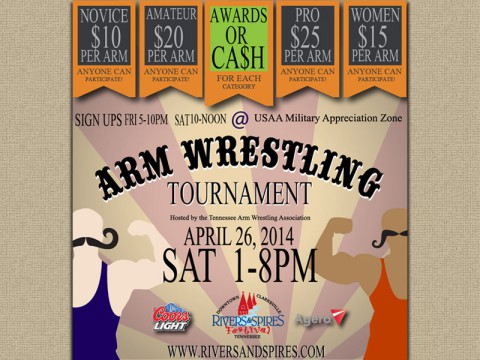 Registration is as follows:
$10.00 per arm for novice
$20.00 per arm for amateur
$15.00 per arm for women
$25.00 per arm for pro.
The Arm Wrestling Tournament will begin Saturday, April 26th from 1:00pm until 8:00pm.
Not sure what class to register under? This might help…
Novice it's intended to simply welcome the new guy. Only first time pullers, or pullers who have not won any class are able to compete in the novice class.
Most of the practicing pullers will fall in the amateur class unless you are an open only puller.
For more information about the Tennessee Arm Wrestling Association check out their website.
Check out the event on Facebook! 
Special Thanks to this Event's Sponsors
Tilted Kilt Restaurant
Red River Sirens Roller derby team
Gulley Grip LLC.
Fat Gripz LLC.
The Bent Wrench Road house
No Egrets Tattoo
About the Rivers and Spires Festival
The 12th Annual Rivers and Spires Festival, April 24th-26th in downtown Clarksville, is free and open to the public.
The Festival features five stages of music and entertainment, arts and crafts, marketplace, food vendors and activities for all ages.
For more information and a complete schedule, visit www.riversandspires.com .