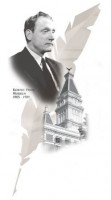 Clarksville, TN – Former Assistant Director of Academic Affairs and Professor Emeritus of Theater Joe Fillipo introduced his long-time friend, Bud Willis, at the Friday luncheon of Clarksville Writers' Conference 2014. Describing Willis' service in Viet Nam as a Huey "chopper" pilot and his career as a stockbroker in glowing terms, Fillipo also revealed that Bud's birth name was "Beasley."
Bud told his audience that he wrote his first book, Bluestocking, about gratitude. His mother, who was born in the Bluestocking area near Tullahoma, reared her nine children alone from the time her youngest was two months old. Bud's tribute to his mother and the antics of his brothers and sisters are well documented in his first book.
Bud began his writing career when his teacher insisted that her students write a story containing their spelling words each week. A lover of serial cowboy movies at the local Saturday matinee, Bud came up with a couple of bumbling would-be criminals who managed to never complete their goals each week; the kids in his class could not wait for the next hilarious installment of Bud's imagination. Bud learned that humor, service to others, and perseverance would lead to success and he managed to utilize each of these attributes throughout his career.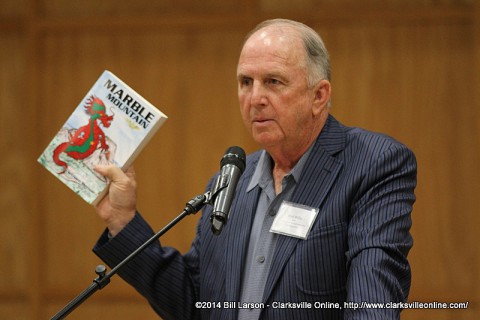 Quoting Bud in an interview on History. Net, "I was inspired after memorizing King Henry V's speech to his soldiers on the eve of his battle with the French at Agincourt. A group of my peers came into my dorm room (at Tennessee Tech in Cookeville) to convince me to join the Marine Corps and become an officer. King Henry's words stirred in my head: "We few, we happy few, we band of brothers; for he today who sheds his blood with me will be my brother." Bud joined,
Bud's second book, Marble Mountain, describes his days during the Viet Nam conflict as he transitioned from a college student who had edited a literary magazine and completed a degree in English to a pilot facing the possibility of death every day. His revelations of the life of a Marine in combat include not only his day-to-day routine in his quarters but diving through bullets to pick up his wounded comrades in arms. The book's entire proceeds go to the Wounded Warrior Project.
Every young person who may face service in the military and their parents should read this book. It is available on line and at the Ann Ross Bookstore on the campus of Austin Peay State University.
Bud told his audience that the theme of Marble Mountain is fear.
His third book, now in progress, will be about generosity, Willis revealed.
Bud Willis, who worked as a stockbroker in Clarksville for a number of years, is now retired and lives with his beautiful wife, Lee, in Naples, Florida.