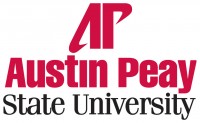 Clarksville, TN – The Office of Public Relations and Marketing at Austin Peay State University won eight awards during the Tennessee College Public Relations Association spring conference and awards contest held June 12th-13th at Lipscomb University in Nashville.
TCPRA – an alliance of communicators across the state representing public and private colleges and universities, technical schools, technology centers and community colleges – awarded gold, silver and bronze distinctions in various writing, design, publication and photography categories. Entries were received for the contest period between April 1st, 2013, and April 30th, 2014.
The University's PR office captured the following awards:
Gold in the Social Media category for #PeayPix, APSU's new photo project consisting of a photo blog, "cAPture," at www.austinpeayphotos.tumblr.com; an Instagram account, www.instagram.com/austinpeayphotos; a Facebook page, www.facebook.com/austinpeayphotos and a twitter account, www.twitter.com/peaypix.
Gold in the Postcard/Invitation category for the Candlelight Ball invitation.
Silver in the Video Advertisement PSA category for APSU's "First Step" commercial.
Silver in the Specialty Item category for APSU's "Let's Go Peay" T-shirt.
Silver in the Low-Budget Publication category for "Regaining Hope," a fundraising piece that solicited financial support for a program that assists students who lose their HOPE scholarships.
Silver in the College Promotional Video category for "Inside Look: Farm and Environmental Education Center" video, which promoted that unique APSU facility.
Bronze in the College Promotional Video category for the APSU "Inside Look: University Recreation" video, which promoted APSU's University Recreation department.
Bronze in the Overall Promotional Campaign category for "AP Day," an event that brings prospective students to campus.
The APSU #PeayPix Social Media Campaign was also a finalist in the conferences Best of Show category.