Austin Peay Sports Information Office

Clarksville, TN – Fans attending the football practices at Austin Peay State University are likely noticing all the heavy machinery that has taken over Raymond C. Hand Park this week.
As of Thursday afternoon, crews were unearthing the infield and foul territory, beginning with the grass.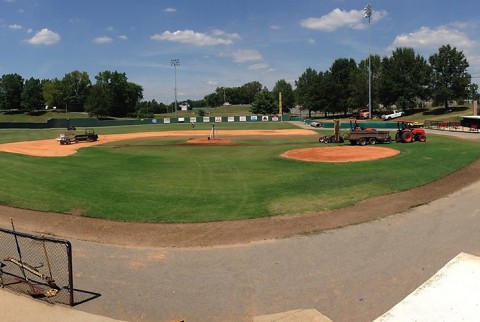 They will then add approximately 200 tons of new top soil, which will be laser graded to crown the infield so it slopes toward the warning track and the outfield. Once the new topsoil is in place, the infield and foul territory will be seeded with Tipton Bermuda 419.
In addition, the crews will replace the mound, home plate and infield areas with new clay. Some of the soil being removed from the infield is being used – along with a top dressing treatment – to help level the outfield. In addition, crews already have removed the visitors bullpen down the first base side of the field, which will be rebuilt from scratch.
"This entire project will help improve the playing surface," said Governors head coach Gary McClure. "When it's done our surface will be one of the smoothest in college baseball."
Outside of the work being done on the infield, some cosmetic improvements are being made around the park. The areas behind each dugout are being reworked with mulch in place to receive new landscaping, including ivy, plants and shrubs.
"We are continuing our work to improve Raymond C. Hand Park one season at a time," said McClure. "I am appreciative of the support we have received from the university to make these improvements. When fans see the field after the work is done they will really notice a difference."
Raymond C. Hand Park has been the Govs home field since 1970, when it was originally Governors Park. The field has seen many improvements since the installation of lights in 1993. The most recent improvements were the addition of padding and brick to the walls that stand outside the foul lines.