APSU Sports Information

Murfreesboro, TN – Starting pitcher Jared Carkuff threw seven scoreless innings to lead Austin Peay State University's baseball team to an 11-0 victory against Middle Tennessee, Tuesday night at Reese Smith Jr. Field.
Just three days removed from a short Saturday start, Carkuff (4-3) dominated on the mound allowing just two hits in seven innings.
«Read the rest of this article»
Change Scheduled for April 1st

Nashville, TN – Goodwill Industries of Middle Tennessee is extending business hours at its stores to better serve customers.
Starting April 1st, stores will open one hour earlier. New store hours will be 8:00am-8:00pm. Monday through Saturday and 10:00am-8:00pm on Sunday. «Read the rest of this article»
APSU Sports Information

Nashville, TN – On the heels of being named Ohio Valley Conference Softball Player of the Week, Austin Peay's Chandler Groves was named Softball Player of the Week by the Tennessee Sports Writers Association on Tuesday, for games from March 23rd-29th.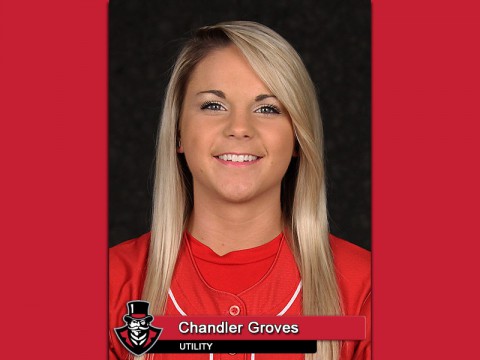 «Read the rest of this article»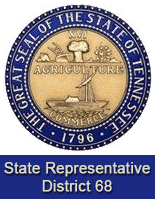 Nashville, TN – Speaker Pro Tempore Curtis Johnson (R-Clarksville) announced today that a local circuit court judge will be added in the 19th Judicial District, which encompasses Montgomery County and Robertson County. The funding for the additional judge will be included in Tennessee Governor Bill Haslam's annual budget, unveiled today.
"I sincerely appreciate the Governor recognizing the need for an additional judge in our region," said Johnson. "The 19th Judicial District has the heaviest caseload in relation to the amount of judges we currently have, and this position is an important factor in ensuring the process is efficient and effective. I am proud to have worked with Governor Haslam on this issue."
«Read the rest of this article»
Austin Peay at Northern Kentucky
Wednesday, April 1st | 1:00pm CT, 3:00pm CT
Highland Heights, KY | Frank Ignatius Grein Softball Field

Clarksville, TN – Coming off its best week of the season, Austin Peay State University's softball team hopes to carry that momentum into a non-conference matchup, 1:00pm, Wednesday, at Northern Kentucky.
«Read the rest of this article»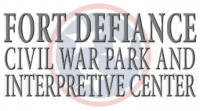 Clarksville, TN – See history come to life as you meet the legendary Davy Crockett at the Fort Defiance Interpretive Center!
Arthur Hunt will offer an authentic characterization of Tennessee's most famous volunteer, Davy Crockett.
«Read the rest of this article»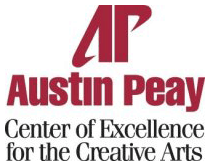 Clarksville, TN – Austin Peay State University welcomes two local authors to campus, as Andrea Spofford and Amy Wright will read excerpts of their works  at the Morgan University Center, room 303 on Wednesday, April 1st at 4:00pm. The event is free and open to the public.
Spofford is the author of two chapbooks, titled "Everything Combustible" and "Qikiqtagruk: Almost an Island." Her first full-length book, "The Pine Effect," is forthcoming from Red Paint Hill Publishing. A native Californian transplanted to the South, Spofford is poetry editor for Zone 3 Press, APSU's literary press, and an assistant professor of English at APSU.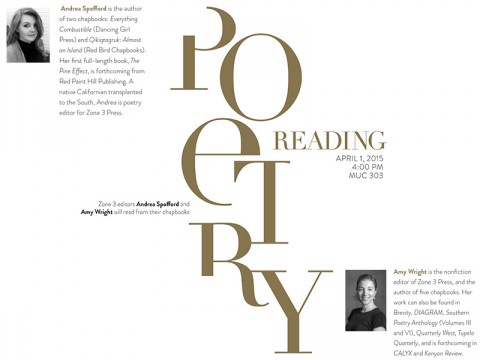 «Read the rest of this article»
Austin Peay at Middle Tennessee
Tuesday, March 31st | 6:00pm CT
Murfreesboro, TN | Reese Smith Field

Clarksville, TN – Austin Peay State University's baseball team begins a four-game Easter Week roadtrip when it meets in-state foe Middle Tennessee in a 6:00pm, Tuesday contest at Reese Smith Field in Murfreesboro, TN.
Austin Peay (14-10) enters the midweek affair after a three-game sweep of Ohio Valley Conference foe Tennessee Tech last weekend.
«Read the rest of this article»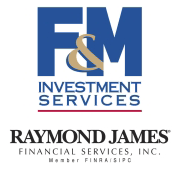 Clarksville, TN – The economic data were mixed, adding little to the overall picture. Durable goods orders disappointed (again), with orders for nondefense capital goods excluding aircraft (a rough proxy for business fixed investment) down for the sixth consecutive month. Unfilled orders are falling and inventories are outpacing shipments – both are bad signs, but neither is yet at a dangerous level.
Home sales figures were mixed. The third estimate of fourth quarter GDP growth came in at 2.2%, the same as in the previous estimate. This report included corporate profit data for 4Q14, which showed a moderate increase in domestic nonfinancial corporate profits, but a sharp drop in profits from abroad.
«Read the rest of this article»
New Ballpark Venue 'The Band Box' To Offer Dynamic Food, Beverages, And Atmosphere In Right Field
Nashville, TN – With all the anticipation surrounding First Tennessee Park, set to open next month, there's yet another reason to get excited – Nashville-based Strategic Hospitality will be opening a bar and restaurant in the right field concourse area.
In an effort to make First Tennessee Park one of the most unique ballparks in the country, Sounds owner Frank Ward sought out Strategic Hospitality to bring their creative touch to the venue.
«Read the rest of this article»