APSU Sports Information

Murfreesboro, TN – Starting pitcher Jared Carkuff threw seven scoreless innings to lead Austin Peay State University's baseball team to an 11-0 victory against Middle Tennessee, Tuesday night at Reese Smith Jr. Field.
Just three days removed from a short Saturday start, Carkuff (4-3) dominated on the mound allowing just two hits in seven innings.
He worked around a pair of errors in the first inning but kept Middle Tennessee off the board. Carkuff would allow a leadoff double in the fourth, but retired the next three batters to end the threat.
Carkuff allowed two hits in seven innings and struck out six en route to the win. Shane Lantigua and John Sparks followed Carkuff and pitched a scoreless eighth and ninth, respectively, to lead the Govs to their first shutout since Alex Robles' shutout of Belmont nearly one year ago.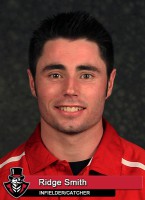 Austin Peay (15-10) churned out plenty of offense in support of the shutout bid. Catcher Ridge Smith's two-run double in the first provided all the runs needed for the win.
However, the Govs would go on to record 11 runs on 18 hits, including seven extra base hits. Center fielder Patrick Massoni and third baseman Logan Gray each had run-scoring doubles in a three-run second inning, extending the APSU lead to 5-0.
Designated hitter Alex Robles doubled to start the fifth, stole third base and scored on a wild pitch in a two-run fifth inning as the lead reached 8-0. Shortstop Imani Willis led off the seventh with a double and scored on Gray's single later in the frame.
Reserve catcher T.J. Marik closed the scoring with his first collegiate home run – a two-run blast to left field that put the Govs ahead 11-0.
Massoni led the Govs with a 3-for-5, three RBI performance. Left fielder Wesley Purcell and first baseman Dre Gleason also had three hits each. Gray, Smith and Marik had two RBI a piece.
MTSU starter Tyler Troutt (0-2) allowed four runs on three hits and two walks in the first inning of the loss. The Blue Raiders offense was held to four hits.
Austin Peay continues its Easter Week road trip with another crucial Ohio Valley Conference series when it travels to Southeast Missouri for a Thursday-Saturday three-game set. The weekend is scheduled to begin with a 6:30pm, Thursday contest at Capaha Field.
Box Score
Austin Peay (15-10) -vs- Middle Tennessee (16-11)
| | 1 | 2 | 3 | 4 | 5 | 6 | 7 | 8 | 9 | R | H | E |
| --- | --- | --- | --- | --- | --- | --- | --- | --- | --- | --- | --- | --- |
| Austin Peay | 2 | 3 | 1 | 0 | 2 | 0 | 1 | 0 | 2 | 11 | 18 | 2 |
| Middle Tennessee | 0 | 0 | 0 | 0 | 0 | 0 | 0 | 0 | 0 | 0 | 4 | 0 |
W: CARKUFF, J. (4-3)    L: Troutt,Tyler (0-2)
Austin Peay 11
| | Player | AB | R | H | RBI | BB | SO | LOB |
| --- | --- | --- | --- | --- | --- | --- | --- | --- |
| cf | MASSONI, P. | 5 | 1 | 3 | 3 | 0 | 0 | 0 |
| cf | HAMILTON, C. | 1 | 0 | 0 | 0 | 0 | 0 | 3 |
| rf | WILSON, Jo. | 3 | 2 | 0 | 0 | 2 | 1 | 0 |
| 3b | GRAY, L. | 5 | 1 | 2 | 2 | 1 | 2 | 3 |
| c | SMITH, R. | 4 | 0 | 1 | 2 | 0 | 2 | 1 |
| c | MARIK, TJ | 2 | 1 | 1 | 2 | 0 | 0 | 1 |
| 2b | COPELAND, G. | 6 | 0 | 1 | 0 | 0 | 0 | 0 |
| dh | ROBLES, A. | 3 | 2 | 2 | 0 | 1 | 0 | 1 |
| dh | BLACKBURN, K | 1 | 0 | 0 | 0 | 0 | 1 | 0 |
| lf | PURCELL, W. | 4 | 1 | 3 | 0 | 1 | 1 | 0 |
| 1b | GLEASON, D. | 4 | 2 | 3 | 1 | 1 | 0 | 2 |
| ss | WILLIS, I. | 4 | 1 | 2 | 0 | 0 | 2 | 0 |
| p | CARKUFF, J. | 0 | 0 | 0 | 0 | 0 | 0 | 0 |
| p | LANTIGUA, S. | 0 | 0 | 0 | 0 | 0 | 0 | 0 |
| p | SPARKS, J. | 0 | 0 | 0 | 0 | 0 | 0 | 0 |
| | Totals | 42 | 11 | 18 | 10 | 6 | 9 | 11 |
Batting
2B:MASSONI, P. (1); GRAY, L. (1); SMITH, R. (1); ROBLES, A. (1); WILLIS, I. (1)
HR:MARIK, TJ (1)SH:WILLIS, I. (1)
Baserunning
SB:ROBLES, A. (1)
HBP:WILSON, Jo. (1); BLACKBURN, K (1)
Fielding
E:GRAY, L. (2)
Middle Tennessee 0
| | Player | AB | R | H | RBI | BB | SO | LOB |
| --- | --- | --- | --- | --- | --- | --- | --- | --- |
| 2b | Delgado,Dustin | 2 | 0 | 0 | 0 | 0 | 0 | 0 |
| 2b/ss | Sullivan,Kevin | 1 | 0 | 0 | 0 | 0 | 0 | 0 |
| rf | Jarreau,Brad | 4 | 0 | 0 | 0 | 0 | 0 | 1 |
| cf | Jebavy, Ronnie | 4 | 0 | 1 | 0 | 0 | 1 | 0 |
| lf | Allen,Jared | 3 | 0 | 0 | 0 | 0 | 1 | 1 |
| lf | Kunsa,Phillip | 1 | 0 | 0 | 0 | 0 | 1 | 0 |
| c | Adkins,Michael | 3 | 0 | 1 | 0 | 0 | 1 | 0 |
| c | Schnure,Will | 1 | 0 | 1 | 0 | 0 | 0 | 0 |
| 3b | Ingold,Jake | 4 | 0 | 0 | 0 | 0 | 3 | 2 |
| ss | Bryant,Austin | 3 | 0 | 0 | 0 | 0 | 0 | 0 |
| 2b | Moss,Conner | 0 | 0 | 0 | 0 | 0 | 0 | 0 |
| dh | Norrell,Austin | 3 | 0 | 1 | 0 | 0 | 1 | 1 |
| 1b | Dupree,Kevin | 2 | 0 | 0 | 0 | 1 | 0 | 0 |
| p | Troutt,Tyler | 0 | 0 | 0 | 0 | 0 | 0 | 0 |
| p | Alton,Sam | 0 | 0 | 0 | 0 | 0 | 0 | 0 |
| p | Slatton,Heath | 0 | 0 | 0 | 0 | 0 | 0 | 0 |
| p | Stansberry,Blake | 0 | 0 | 0 | 0 | 0 | 0 | 0 |
| p | Smith,Caleb | 0 | 0 | 0 | 0 | 0 | 0 | 0 |
| p | Small,Will | 0 | 0 | 0 | 0 | 0 | 0 | 0 |
| | Totals | 31 | 0 | 4 | 0 | 1 | 8 | 5 |
Batting
2B:Jebavy, Ronnie (1)
Baserunning
HBP:Delgado,Dustin (1)