Austin Peay Sports Information

Clarksville, TN – Austin Peay State University men's tennis team saw its Ohio Valley Conference winning streak end at eight matches as the Govs fell to Jacksonville State 4-3, Friday, in a thrilling match at the Governors Tennis Courts.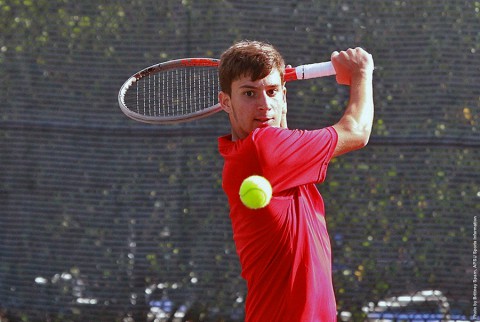 With the loss, Austin Peay falls to 12-6 overall, with a 7-1 mark in the OVC. JSU improves to 10-11 overall, with a 5-3 OVC record.
In doubles action, the Govs pairing of sophomore Aaron Jumonville and senior Aleksas Tverijonas earned an 8-4 victory at the No. 2 position. The Govs clinched the doubles point when the pairing of seniors Iago Seffrin and Dimitar Ristovski earned a hard-fought 9-8 (6) win at the No. 1 position.
In singles play, the Govs were led by Jumonville, who earned a 6-4, 6-2 win against Mathias Chaim at the No. 2 position and Ristovski, who was leading 7-6 (1), 3-2, when his opponent, Jefferson Wendler-Filho was disqualified for his third match code violation. Unfortunately, the Gamecocks rallied to win the four remaining singles matches to claim the match victory.
The Govs wrap up regular-season play when they host Tennessee Tech, 11:00am, Saturday, at the Governors Tennis Courts.
Box Score
Singles
No. 1 – Dimitar Ristovski (APSU) def. Jefferson Wendler-Filho (JSU) 7-6 (1), 3-2 disqualified
No. 2 – Dylan Gee (JSU) def. Aleksas Tverijonas (APSU) 6-4, 6-3
No. 3 – Aaron Jumonville (APSU) def. Mathias Chaim (JSU) 6-4, 6-2
No. 4 – Pedro Wagner (JSU) def. Iago Seffrin (APSU) 6-2, 6-1
No. 5 – Jaryd Reese (JSU) def. Manuel Montenegro (APSU) 3-6, 6-4, 7-5
No. 6. – Gabriel Pansera (JSU) def. Aleh Drobysh (APSU) 6-2, 6-3
Doubles
No. 1 – Seffrin/Ristovski (APSU) vs. Wendler-Filho/Wagner (JSU) 9-8 (6)
No. 2 – Jumonville/Tverijonas (APSU) def. Reese/Diaz (JSU) 8-4
No. 3 – Drobysh/Montenegro (APSU) vs. Gee/Chaim (JSU) 8-8 (unfinished)